Barber Foods recalls over 1.7 million pounds of frozen chicken products due to possible salmonella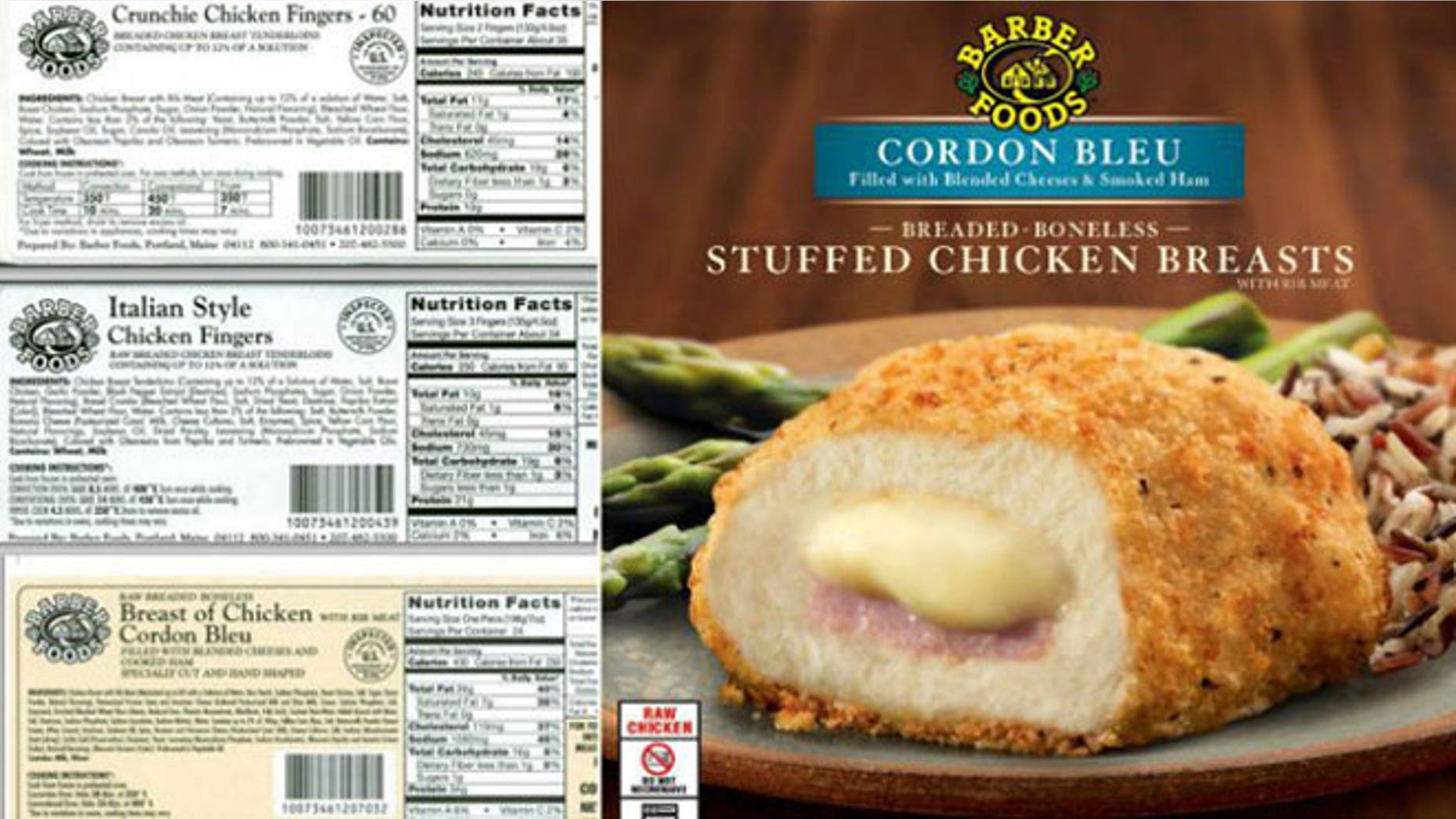 Barber Foods has expanded its recall earlier this month to include over 1.7 million pounds of frozen, raw stuffed chicken products that may be contaminated with salmonella enteritidis, the U.S. Department of Agriculture's (USDA) Food Safety and Inspection Service (FSIS) announced Monday.
According to a USDA news release, the recalled products consist of nearly 90 raw packaged foods produced between Feb. 17, 2015 and May 20, 2015, and they feature the establishment number "P-276" inside the USDA mark of inspection, which is located next to product descriptions on the packaging. The products were shipped to Canada and nationwide.
Exposure to salmonella can lead to salmonellosis, a bacteria foodborne illness that may cause diarrhea, abdominal cramps and fever. Symptoms typically appear within 12 to 72 hours of exposure, and the illness usually last up to seven days, according to the USDA. Infants, the elderly, and people with weakened immune systems are most likely to develop a severe form of the illness
The Portland, Maine-based company's first recall, on July 2, consisted of about 58,000 pounds of frozen, raw, stuffed chicken products produced on Jan. 29, Feb. 20, and April 23, 2015, after Barber Foods received a cluster of reports of salmonella illness linked to consumption of their products. That recall included their 2-pound, 4-ounce box of six individually wrapped pieces of breaded, boneless, raw stuffed chicken breasts with rib meat kiev, and a use-by or sell date of April 28, 2016, May 20, 2016 and July 21, 2016. Lot code numbers for those products were 0950292102, 0950512101, and 0951132202.
Since that recall, trace-back investigations and epidemiology tests have linked a total of six salmonella cases to the consumption of Barber Foods products.
The USDA advised people consuming raw packaged items to ensure they are fully cooked to a temperature of 165 degrees Fahrenheit at the center and the surface of the food. The USDA also advised people treat the products like raw chicken, not like pre-cooked meals, and to wash hands or surfaces that come in contact with these products. The USDA did not specify whether all of the salmonella case patients cooked the products thoroughly.