Baby hospitalized with botulism on first birthday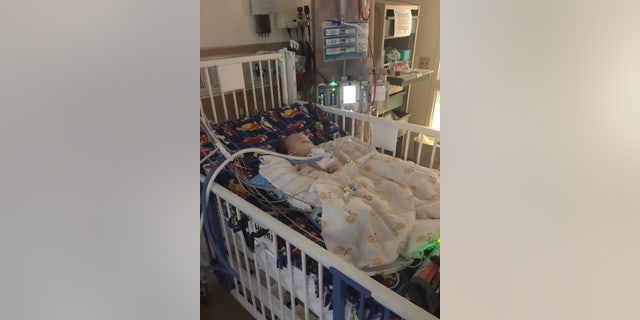 An Arizona mother has not left her 1-year-old son's side since he was rushed to the hospital and diagnosed with botulism on his Aug. 6 birthday. Jackie Hansberger, who also has a 4-year-old, said she noticed her son Cole's head was drooping while he was crawling, The Republic reported.
She said by 3 a.m. on the day of his birthday, Cole could no longer sit up so she and her husband took him to the emergency room, where he was then transferred to the intensive care unit at Banner Thunderbird Medical Center.
WOMAN BATTLING CANCER DIES AFTER EATING CONTAMINATED OYSTERS
A post on the family's GoFundMe page indicated that Cole's symptoms puzzled doctors at first, but subsequent testing was positive for botulism poisoning. Symptoms of botulism typically begin with weakness of muscles that control eyes, face, mouth and throat. It can then spread to neck, arms torso and legs, eventually causing difficulty in breathing and even death, according to the Centers for Disease Control and Prevention (CDC).
It is not clear how Cole contracted the infection, but botulism can be caused by eating home-canned or home-fermented foods that haven't been prepared safely, injecting certain drugs, drinking certain alcohol or receiving botulinum toxin cosmetic injections.
"We are still praying every single day as things have gotten better, but we've also had some pretty bad scares," Robert Hansberger, Cole's father, wrote in an Aug. 16 GoFundMe post. "As of now Cole has a partially collapsed lung and having trouble maintaining his [oxygen] levels. He also had a pretty bad scare today where he stopped breathing all together and they had to rush in to resuscitate."
GIRL RECOVERING FROM SNAKE BITE AFTER 4 DAYS IN ICU
Cole is on a ventilator and is expected to remain in the ICU for the next week to 10 days, The Republic reported.
"As a parent, you never expect it," Hansberger said of her son's diagnosis. "It's a very scary experience. It humbles you as a person. Nothing else matters except in the moment."