Baby born to woman who locally acquired Zika in US is healthy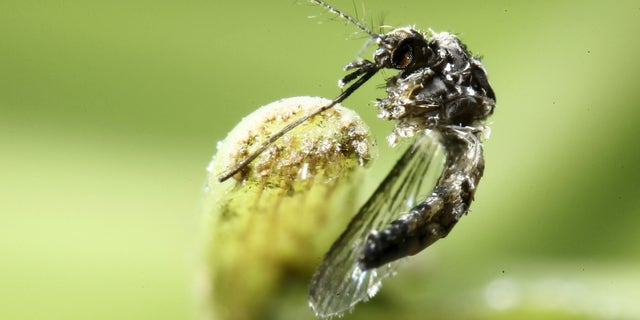 NEWYou can now listen to Fox News articles!
Reports of locally transmitted Zika in South Florida last year compelled federal officials to instate a travel advisory for pregnant women and instilled fear among hotel owners who worried a spread of the virus would harm tourism in the area.
And although the World Health Organization has declared Zika is no longer a global health emergency, new details are emerging about the virus, for which scientists are making strides in creating a vaccine.
One of the latest discoveries regards the first locally acquired case of Zika in a pregnant woman who recently gave birth to a healthy baby. Researchers at the University of Miami Health System and Miller School of reported this week in the New England Journal of Medicine that the 23-year-old woman, who was infected with Zika in July 2016 at 23 weeks pregnant, presented a rash that they had not yet studied in detail.
"Dermatologists and clinicians had an idea of what the Zika rash looked like, but it wasn't until the patient presented here that we were able to get an up-close-and-personal look and photograph the skin," Dr. Lucy Chen, a Jackson Health System dermatology resident and lead author of the case study, said in a news release. "Any doctor now has a visual sense of the rash to properly diagnose and refer patients to the appropriate specialists."
The unidentified woman and her partner had not traveled outside of the United States when she experienced three days of a low-grade fever, a rash and a sore throat. The widespread rash was characterized by small pink bumps on the patient's chest, back of her arms, legs, palms and soles of her feet, said Chen, who saw the patient upon admission.
Later, the woman's symptoms advanced to muscle and joint pain.
The Zika virus presented in the patient's system for two weeks in urine samples and six weeks in blood samples. The patient is "an example of how the virus can circulate in the body of a pregnant woman for more than the typical one to two weeks," Dr. Christine Curry, who leads the care of Zika-infected pregnant women at the University of Miami and Jackson Health Systems, said in the news release.
The patient gave birth in October 2016, and her child has shown normal development, head size and intracranial anatomy, with no calcifications. The infant did not test positive for Zika.
The Miami-Dade County area and South Miami Beach area are now considered to be cautionary areas where local transmission has been identified, but, as of Dec. 9, the Centers for Disease Control and Prevention (CDC) declard that no new locally transmitted cases had been found in over 45 days (three mosquito incubation periods). Pregnant women are still advised against travel to the area.
Zika is a mosquito-borne virus that is most dangerous for pregnant women or women considering becoming pregnant.