Baby born 4 months premature ready to head home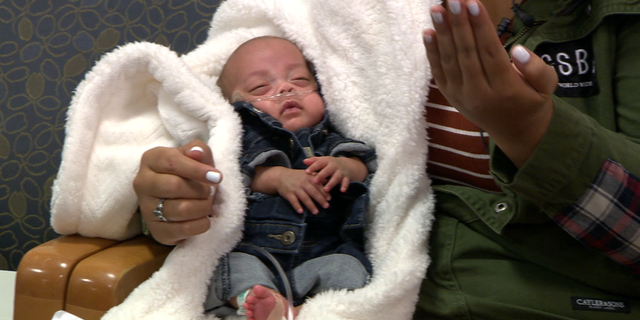 A baby boy who was born weighing less than 1.5 pounds at just 22 weeks gestation is finally ready to head home after spending four months in the hospital. Baby Leni, whose mom Chastity said she didn't' realize she was in labor at the time, has been receiving care at Sutter Medical Center in Sacramento, KTVU reported.
"I didn't even know I was in labor at first," 20-year-old Chastity told KCRA. "He wasn't a regular baby. He was blue and purple. I didn't think he was going to live, and I'm looking at my son like, 'Oh my God please live. Don't die on me.'"
TEEN WITH 'RAPUNZEL SYNDROME' DIES FROM EATING HER OWN HAIR
Chastity wound up giving birth in an emergency delivery at home and watched Sacramento Fire Department medics work to resuscitate Leni, who was given about a 5 percent chance of survival. A hospital spokesman told the news outlet that Leni, who now weighs 6 pounds, 3.5 ounces, is the youngest newborn to be resuscitated.
"He wasn't supposed to live through the first week he was born," Chastity told KTVU. "He had an IV in his head. They had to open it and put it in the back of his head. He had so many surgeries."
COULD RARE BRAIN-EATING AMOEBA THRIVE IN IRMA'S AFTERMATH?
While Chastity and hospital staff celebrated Leni's impending release, he will require follow-up exams to monitor his vision, kidneys and lungs. A member of the fire department who responded to Chastity's initial call was also there to mark the occasion.
"You guys came right on time. You were so efficient with everything and so quick and so patient," Chastity told firefighter David Robinson, according to KTVU. "You saved his life."