Autistic woman receives over 6,000 birthday cards after Facebook plea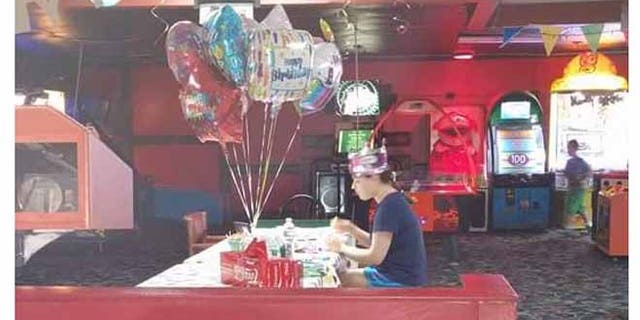 NEWYou can now listen to Fox News articles!
Over a week ago, a Massachusetts woman turned to Facebook to ask for birthday cards for her soon-to-be 19-year-old cousin, who has autism. On Monday, delivery trucks brought in more than 5,000 cards for the young woman, adding to the haul that had been delivered every day since Friday.
Hallee Sorenson, of Bangor, Maine, was stood up by her friends at her bowling alley birthday party last year. Her cousin, Rebeca Lyn, posted a photo of Sorenson sitting alone at a balloon-decorated table. The Facebook post received over 236,000 views.
Allyson Seel-Sorenson, Hallee's mom, told the Bangor Daily News that they've received more than 6,000 cards and the family's garage is packed with mail.
"We have been getting entire trucks for just Hallee… they even sent one on Sunday," Seel-Sorenson told the newspaper. "It's unbelievable. I'm laughing at it, and then I'm crying."
Though the family has stressed they do not want birthday presents, some well-wishers have sent presents. Seel-Sorenson said they appreciated the gifts— including a handmade afghan crocheted by a grandmother in California— but do not plan to keep the vast majority of them.
"We'll pick a few things for Hallee and her sister to keep, put aside a few things for Christmas and the rest we'll donate," she told the Bangor Daily News. They are keeping the afghan.
The Facebook post, which included the family's home address, concerned some supporters, who called the Bangor Police Department.
"The Bangor PD showed up last night at 9:30 because a caller from Arkansas was worried about us because our home address is out there now," Seel-Sorenson told the newspaper. "So out these poor two cops had to come in the rain to check on us. This is 9:30 at night."
According to the Bangor Daily News, Seel-Sorenson has been careful shielding her daughter to the sudden excitement, but one thing did bring a pleasant reaction— Sorenson's picture on the cover of the newspaper at the supermarket.
"She said, 'It's all me!! It's Hallee!' Seel-Sorenson told the Bangor Daily News. "She got that one."