As Ebola vaccine trials near, raising awareness in Sierra Leone is next task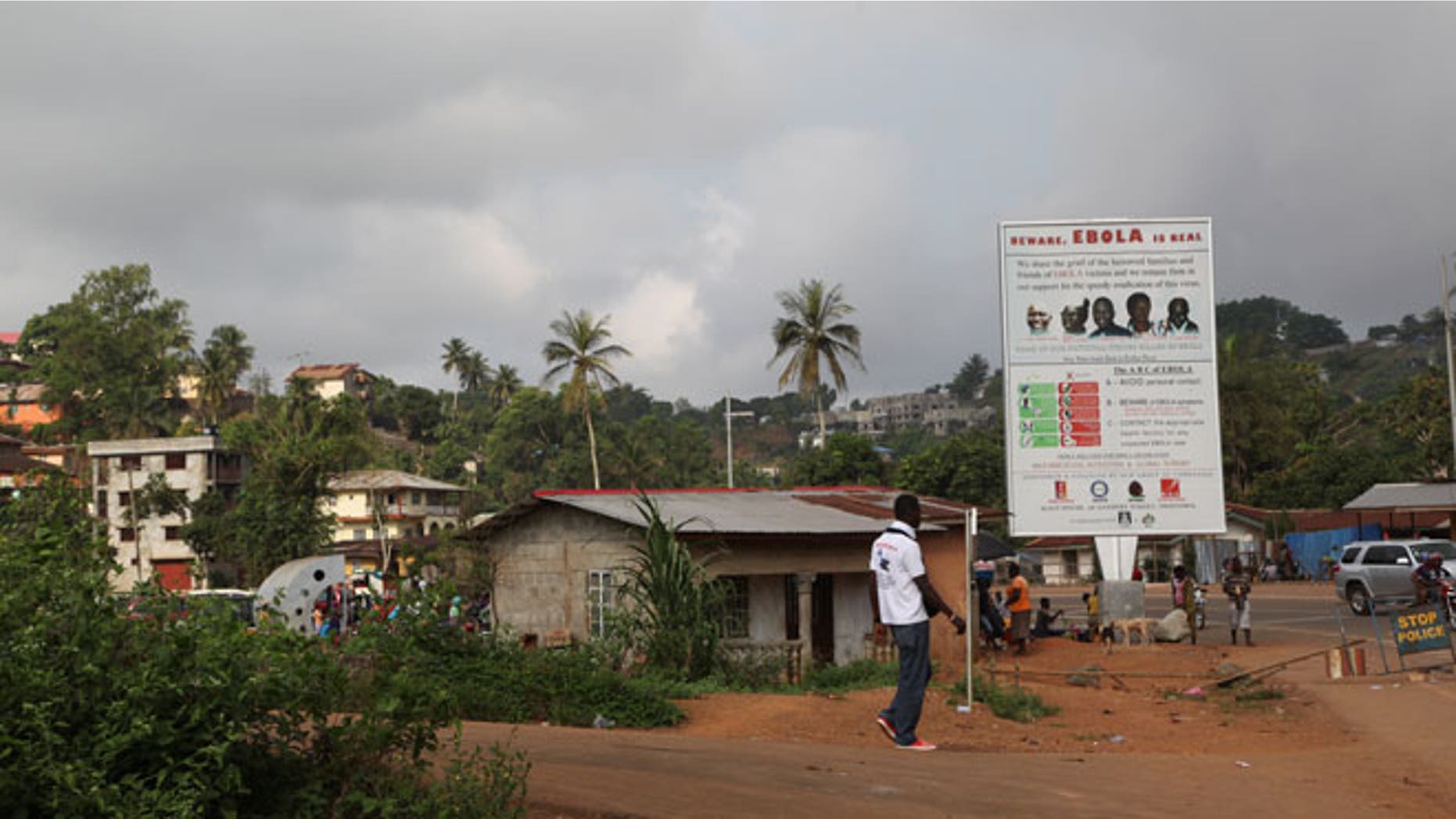 Magnus Conteh grew up in Sierra Leone, but when he returned to his home country in November after living in Europe for 25 years, the grim headlines hinting at Ebola's devastation in West Africa took on a jarring form of reality.
Gone were the social norms of the Sierra Leoneans that Conteh grew up knowing well— the hugging and the shaking of hands— as well as the country's vibrant economy, which for two years prior to the outbreak had been one of the fastest-growing in the world. The streets were empty; the schools were closed. Sierra Leone's 14 districts were blanketed in fear.
Now, in the midst of two upcoming clinical trials for the Ebola vaccine, Conteh, 56, is helping spearhead an effort to revive his home.
Conteh works for U.S.-based World Vision, a Christian humanitarian organization, as the health program coordinator for East and West Africa. The group is one of three organizations involved in a $250 million campaign called the Innovative Medicines Initiative (IMI) that aims to accelerate the development and manufacturing of Ebola vaccines. Pharmaceutical companies anticipate the first vaccine trial will begin in West Africa in May 2015.
IMI is a partnership between the European Union (EU) and the European pharmaceutical industry, and the Ebola vaccine Development, Acceptance & Compliance project is funded through an EU research arm as well as pharmaceutical companies.
In West Africa, Conteh will lead 15 people for the first vaccine trial in May, a team that may expand when a second trial is launched.
World Vision is a community-based organization that focuses on child protection, and it has been active in the effort to tackle Ebola in West Africa since the outbreak began in spring 2014. In Sierra Leone, it helped establish safe and dignified burial rituals for Ebola victims, which helped compel West Africans to come forward and report suspected cases, rather than hide from the authorities.
The organization has also helped the children of Sierra Leone keep up with their studies by creating video-recorded lessons from teachers that students can follow at home. Currently, schools in the country are still closed for classes, while schools in Liberia and Guinea— two of the other West African countries devastated most by Ebola— have gradually begun to reopen. Many schools in Sierra Leone  are still being used as treatment hubs or holy centers, Conteh said.
Additionally, World Vision has aided in the care and placement of Ebola's orphans, children whose caregivers have passed away from the deadly virus. According to UNICEF, at least 3,700 children in Guinea, Liberia and Sierra Leone have lost one or both parents to Ebola.
Now, World Vision is working to facilitate the trial of the Ebola vaccines, collaborating with faith and community leaders to dispel myths and fears, recruiting volunteers for the trial, and encouraging participants to return for their booster shot, Conteh said.
"At the time of the outbreak, there was a lot of fear, and apprehension, and denial of the existence of Ebola," Conteh told FoxNews.com. "But as all of these institutions have walked the ground educating and informing the community— dispelling the fearfulness of the Ebola outbreak and giving [West Africans] knowledge to avoid getting Ebola— there is an increasing acceptance."
World Vision is developing a mobile app to send alerts and information to West Africans. It has used this system to mitigate other public health crises, such as the HIV and AIDS epidemic, in 14 other countries. For the vaccine trials, the app will be used to register volunteers and send them reminders, Conteh said. Participants will also be able to use the app to report side effects of the vaccine and voice concerns.
Because data protection laws in Sierra Leone and the other Ebola-affected countries affected have stringent regulatory policies for data collection, Conteh and his team will also be responsible for making sure government policy is followed.
When Ebola is finally extinguished in West Africa, Conteh said it is his hope that the international health community will turn its attention to the region and work with local governments and religious leaders to strengthen the area's fragile health care systems. That, he said, could be a "silver lining" in the public health crisis.
"Sierra Leone is a country where during Christmas, because of the nice weather, people have street parties and parties on the beach," Conteh said. "The streets were empty this year, and the beaches were empty. It was an unusual experience."
"Hopefully some solution will be found with the vaccine, and life will return to normal again."
According to the World Health Organization (WHO), Ebola has sickened an estimated 20,000 people and killed at least 8,000 people in West Africa, most of them in Liberia, Guinea and Sierra Leone.