Anorexic woman is given choice to seek out-of-state medical treatment or die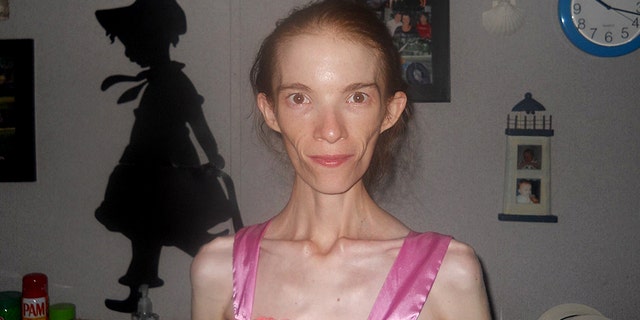 A Georgia woman who weighs 58 pounds was told she had two choices — either seek out-of-state treatment for anorexia or die of the disorder.
Katrina Howard, 25, of Americus, was receiving treatment at Tallahassee Memorial Hospital, but doctors were not sure what more they could do to save the woman from the deadly disorder.
"She's not out of the woods yet," Dr. Paul Robinson, a pediatrician at the hospital told The Miami Herald. He said Howard's pancreas "has shown worrisome signs of stress." Howard, who is 4-ft., 11-in., weighs just 58 percent of what is healthy for her petite frame, which is ideally just under 100 pounds.
"She is very sick," Robinson said. "She has been very sick. We are praying that we can get her pulled out, but she is a very sick person."
Howard was insured by Georgia Medicaid, a program for the underprivileged that was funded by both the state and federal government. The insurance program allegedly views the intensive treatment program Howard needs for her anorexia as a "luxury that taxpayers should not be forced to endure," Robinson said.
AIR FORCE VET DIAGNOSED WITH ALS RAISING WHILE FIGHTING FOR LIFE
Clinic treatment for patients suffering from eating disorders can cost tens of thousands of dollars, and Medicaid normally pays only a fragment of that.
Robinson noted sometimes an insurer and the clinics can "carve out a single case agreement in which the clinic essentially agrees to accept what the state is willing to pay," but Georgia Medicaid would not agree to that.
A spokesperson from Georgia's Department of Community Health declined to comment on the case to the Herald.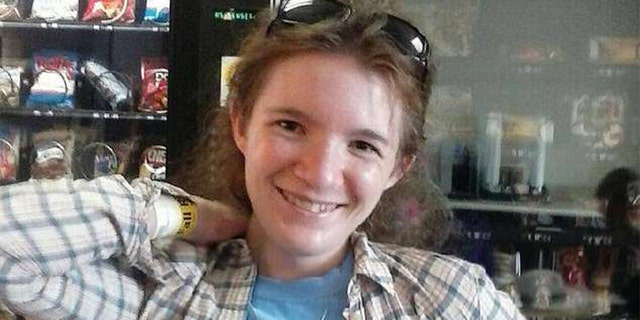 Howard said she was confused by the fight to get treatment.
"It's insurance," she told the news outlet. "Isn't it supposed to help you with medical care?"
When insurance money ran out, Howard sought temporary treatment from out-of-state clinics. She said she stayed at a clinic managed by the University of North Carolina at Chapel Hill. She also stayed at one in Orem, Utah, for about six months.
Howard said she was terrified of dying in her sleep after hearing of other people struggling with anorexia dying of heart failure.
"My mother would lie awake at night just watching my chest, making sure I'm still breathing," she recalled. "I would start feeling something and it could be anything, from struggling to be able to swallow to feeling your heart beating too fast or too slow."
Howard said she started to cut calories when she was very young and the habit only got worse by her teens. She said she was not aware about anorexia nervosa until she was 15 years old.
Robinson said it takes time for anorexic patients to improve.
"It takes a good year of very intensive treatment for patients to get better," Robinson said.
He also noted the disorder has a 6 percent mortality rate but was higher for those who were in poverty.
TEXAS WOMAN EXPECTING TRIPLETS SURPRISED WITH QUADRUPLETS
"The majority of deaths are either from starvation or suicide," the doctor added. "They get so tired or beaten down by those horrible thoughts: 'I'm bad. I'm ugly. I'm stupid. I'm not good.' They get tired, they give up the ghost and they kill themselves. It's a horrendous disease."
Last month, Howard checked herself into a hospital in Americus after she felt sick. At the hospital, a doctor informed her there was not much they could do and informed her to find care somewhere else or return home. She said she and her mother both refused to give up.
"If I would have went home that day, I don't think I would have made it through the night," Howard told the news outlet. The woman along with her mother gathered her belongings and drove to Tallahassee, where she is currently receiving treatment.
"We just took the chance. We knew it was the only way to save me," she said.
Howard said she has been mostly alone in her hospital room because her mother cannot afford to go back and forth from Georgia to Florida often. She said the hospital employees keep her company as they medicate her. She said she dreams of traveling the world, getting a college degree and becoming a dietitian to help others who also have eating disorders. However, the Miami Herald noted the path to recovery was long and hard as she struggled to take in the 1,300 calories a day.
Howard said Columbia University in New York has "promised to take her in as a last result" without reimbursement but she'll have to weigh at least 65 pounds in order to be taken.
"She's got a long road," Robinson said.
Howard was also concerned with how she would afford the airfare to New York and what would happen if the hospital kicked her out before she went to Columbia University.
"It's all I can really think about and focus on — how long are they going to keep me before they throw me out?" she asked while sobbing. "Will they be able to help me enough to the point where it'll be OK if they do?"