Freak gym class accident left Texas teen nearly paralyzed: report
A seemingly harmless task in gym class left one Texas teen nearly paralyzed after the rope she was using in December allegedly broke, and she was sent crashing to the ground where she landed on her neck. Katie Bivins, who said that "God has a plan for everyone, whether you like it or not," was initially told by doctors that "possibly she was not going to be able to be helped," her dad told Fox 4 News.
According to a fundraising page set up for the family, doctors discovered that Bivins had shattered her C6 vertebrae and moved her C7 vertebrae in the fall. The injury impacts an area of the spine considered the low-cervical nerves, which corresponds with arms and hands control.
DRINKING 2 OR MORE DIET SODAS A DAY LINKED TO HEART DISEASE, STROKE: STUDY
An injury to the C6 vertebrae can affect wrist extension, cause paralysis in hands, trunk and legs and may impact bowel and bladder control, according to the Shepherd Center. C7 injury can impact nerve control in elbow extension and some finger extension. Patients may be able to straighten their arms but may need assistance with more difficult tasks.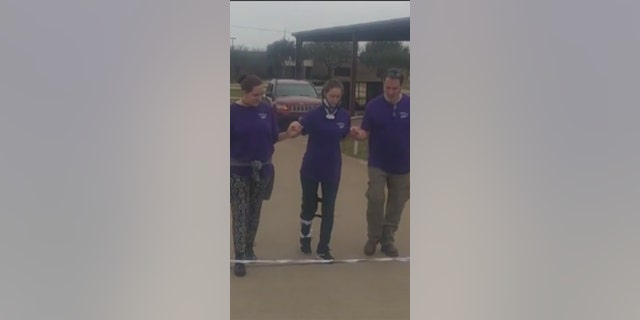 But the Eustace High School teen, who said she remained conscious through the accident and the trip to the hospital, immediately began proving she had other plans despite only being able to feel her head and parts of her arms.
MAN CLAIMS ENERGY DRINK ADDICTION ROTTED HIS TEETH, CAUSED SEVERE PAIN
Once she showed doctors that she could move her big toe, she set out to master walking again in time for graduation with her classmates, which she knows "thankfully I'm going to be able to do now."
She's spent over 60 days recovering, which includes time spent in the Intensive Care Unit and at Baylor Scott and White Rehab Center in Dallas, Fox 4 News reported. Her family said she will likely have lasting health issues from the accident.
CLICK HERE TO GET THE FOX NEWS APP
"I now know whether I try to do something or not — If it's going to break me, it's going to break me," she told the news outlet. "But nothing is going to kill me unless He says so."