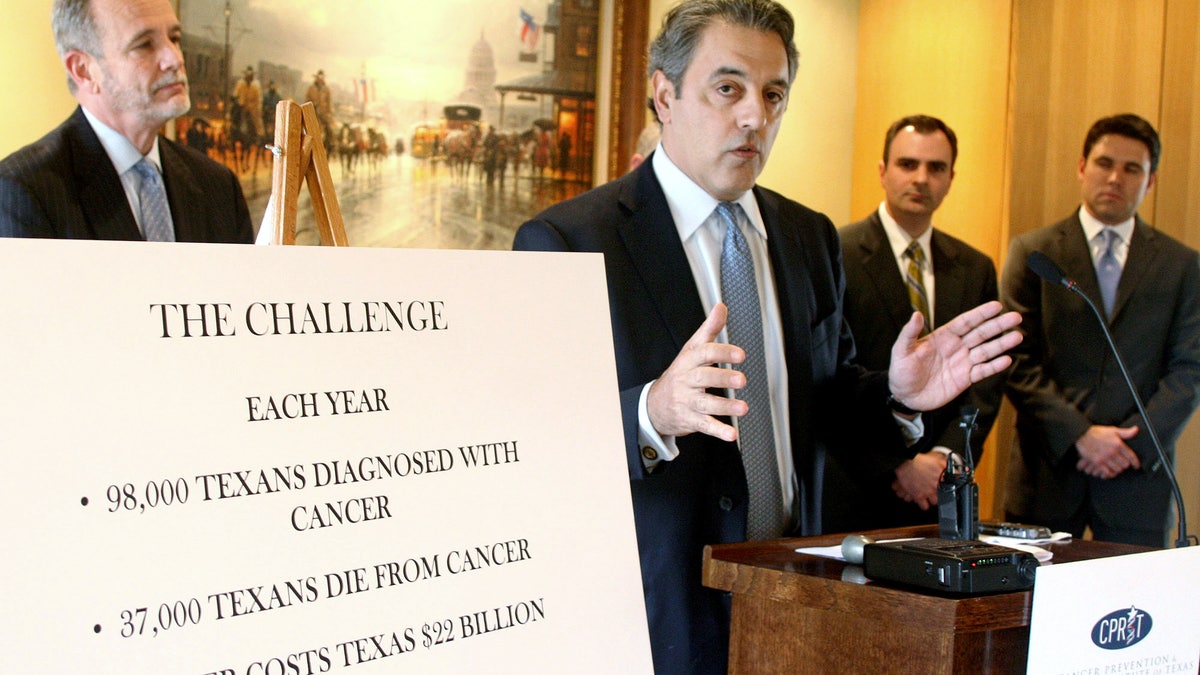 Gone are the large conferences, big pharma funding, Nobel laureates and lavishly paid state officials who vowed scientific breakthroughs from Texas' unprecedented $3 billion crusade against cancer.
What's left of the Cancer Prevention and Research Institute of Texas isn't flashy, but that's precisely the goal for an agency regaining its footing after a year of turmoil and an ongoing a criminal investigation.
"When this started off, when we had Lance Armstrong and all the other advocates, it was ballyhooed," said Wayne Roberts, the interim executive director of the agency. "Publicized. Promoted. Listen, $3 billion for something like cancer — it's going to have to really be in trouble before they don't support it."
A Texas grand jury is still weighing criminal charges against former officials, and rebukes from some of the nation's top researchers have sullied the agency's reputation. But CPRIT, like the cancer patients it was created to help, is getting a second chance.
Skeptics still aren't convinced that lessons were learned. Some nationally acclaimed scientists who severed ties with CPRIT last year say they haven't bothered keeping up with the sweeping reforms and housecleaning that are supposed to right an agency that hands out $300 million in taxpayer dollars every year.
Others mindful of dwindling research money are willing to put their disappointment aside.
"I guess it's like when the Dallas Cowboys have a down season," said Dr. Ian Thompson, director of the cancer and therapy research center at the University of Texas Health Science Center in San Antonio, which has received more than $23 million from CPRIT. "Do you walk away from the Cowboys? Absolutely not."
Before packed abortion-rights protests at the state Capitol this summer caught even the attention of President Barack Obama, few issues dominated the Texas Legislature in 2013 like the fate of CPRIT. The agency controls the second-biggest pot of available cancer research dollars in the nation, behind only the National Institutes of Health, which has suffered with government cutbacks.
CPRIT launched in 2009. The public paid little attention to the agency after a celebrated rollout while researchers and private companies eagerly lined up for a shot at the taxpayer dollars.
Then the national attention CPRIT craved arrived, but for all the wrong reasons. Lucrative grants had been awarded without vetting; elite researchers levied allegations of "hucksterism"; state auditors uncovered mismanagement and questionable spending. One grant recipient spent more than $100,000 on office furniture.
By December, lawmakers froze the agency under a moratorium, and public corruption prosecutors began pulling CPRIT records. Big-shot lobbyists in Capitol hallways bet that "CPRIT is not going to live," Roberts said he later learned.
Lawmakers instead cleaned house and put the agency on a tighter leash. The entire 11-member oversight board was ousted. A nonprofit foundation that solicited money from donors and pharmaceutical giants such as Novartis and Pfizer Inc. — partly to help two state officials take home a combined $1 million in salary — dissolved and won't be replaced.
Now, after being effectively frozen for eight months, the agency hopes to begin taking applications for new grants by October. Leading the way is Roberts, a former aide to Gov. Rick Perry and budget wonk who is deliberately pushing CPRIT ahead with all the pizazz of the state's insurance department.
None of the three founding executives of CPRIT, which included a Nobel laureate and executive of the Centers for Disease Control and Prevention, had experience running a state agency. Roberts said it became clear to him after taking over that was part of the problem.
Cathy Bonner, who helped hatch the idea for CPRIT, agreed.
"You run a boring state agency by the books, and you're a careful steward of the public money," said Bonner, an aide to former Texas Gov. Ann Richards. "You don't have that corruption. And I think they didn't have enough people who knew how to run a public agency with public money. It would thrill me completely if this was a boring state agency that does remarkable, boring research."
What's next for CPRIT is the appointment of a new governing board and the restocking of peer-review panels that were left bare as waves of scientists resigned. Roberts said some who resigned have approached the agency about coming back but declined to name them.
"We got a pretty direct message — you're getting a second chance," Roberts said. "You ain't getting a third chance."