After Texas tragedy, lawmaker wants legal rights for fetus of brain-dead women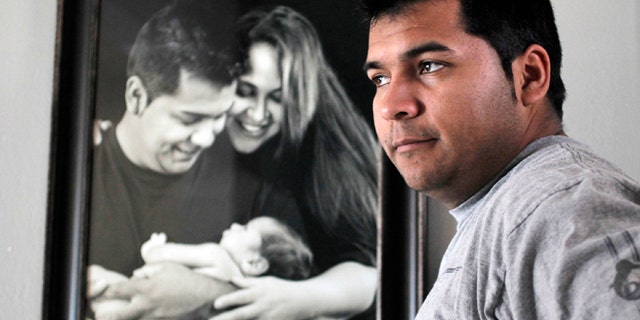 Marlise Muñoz was 14 weeks pregnant when she collapsed in late 2013 because of a blood clot. After two months of painful fights between the family and the hospital, the 33-year-old Texan was disconnected and her unborn child died with her.
Now, a Texas lawmaker is drafting a law that will represent the rights of the fetus of a pregnant woman who is brain-dead.
The proposed measure, by Rep. Matt Krause, will call for the fetus of a brain-dead or permanently incapacitated pregnant woman to have its own representative, such as in court proceedings, according to the Dallas Morning News.
"You'll hear what the family wants, and you'll also give the pre-born child a chance to have a voice in court at that same time," said Krause, a Republican, according to the News. "The judge weighs everything and he or she makes their decision based on that."
Muñoz was declared brain-dead after two scans performed at John Peter Smith Hospital in Fort Worth, but was kept on live support for two months despite the wishes of her family, who said it was distressing to see Munoz physically waste away on her hospital bed.
Munoz's family is fighting the push, saying that keeping Marlise Munoz alive was agonizing for them, and that they do not want other families to endure similar suffering.
They say it was Marlise's wish not to be kept alive through life support, but doctors at the hospital refused to detach her from it, citing the fetus and state law. The law, the Texas Advance Directives Act, says: "A person may not withdraw or withhold life-sustaining treatment" from someone who is pregnant.
"We felt that they were pushing aside her wishes — pushing aside our wishes — and using Marlise as an experiment, if you will, to see how long the baby could survive," said her mother, Lynne Machado, according to the News.
"To me that's saying that my family was not looking out for the best interest of Marlise and the fetus," Machado said. "We feel our actions and decisions were based on what was best for both of them."
A state district judge eventually said that the hospital should take Muñoz off life support because she was legally dead. The hospital then removed her from life support when she was 22 weeks pregnant.
The brain-dead woman's husband, Erick Muñoz, had told reporters that he believed in God but felt his training as a paramedic suggested the fetus would have been seriously harmed by his wife's condition.
Erick Muñoz sued the hospital because it would not remove life support. He said his wife, also a paramedic, had told him she would not want to be kept alive under such circumstances. In refusing his request, the hospital cited Texas law that says life-sustaining treatment cannot be withdrawn from a pregnant patient, regardless of her end-of-life wishes.
The couple has a young son, Mateo, who was a little over a year old when Marlise Muñoz collapsed.
Rights groups, as well as groups on both sides of the abortion issue, are closely watching what happens next with Krause's measure and the state law regarding life support in the case of pregnancy.
The American Civil Liberties Union of Texas is concerned that the current state law unfairly restricts the rights of a pregnant person.
"The minute you become pregnant, you no longer have the right to decide for yourself," said Rebecca Robertson, the A.C.L.U.'s legal and policy director, to the News.
"The circumstances are so different from family to family that what you need is for the family to have the fullest latitude to do what's best for them," Robertson said.
The News said doctors found "physical disfigurements and suspected brain damage in the fetus."
Muñoz's mother suspects that all the injections given to her daughter to restart her heart after it stopped several times, as well as the occasional oxygen deprivation, created health problems in the fetus that doomed it.
"This by far was the hardest thing we had ever faced, but we were united in knowing that this is what we needed to do to honor Marlise's wishes," Machado said.
The Associated Press contributed to this report.
Follow us on twitter.com/foxnewslatino
Like us at facebook.com/foxnewslatino