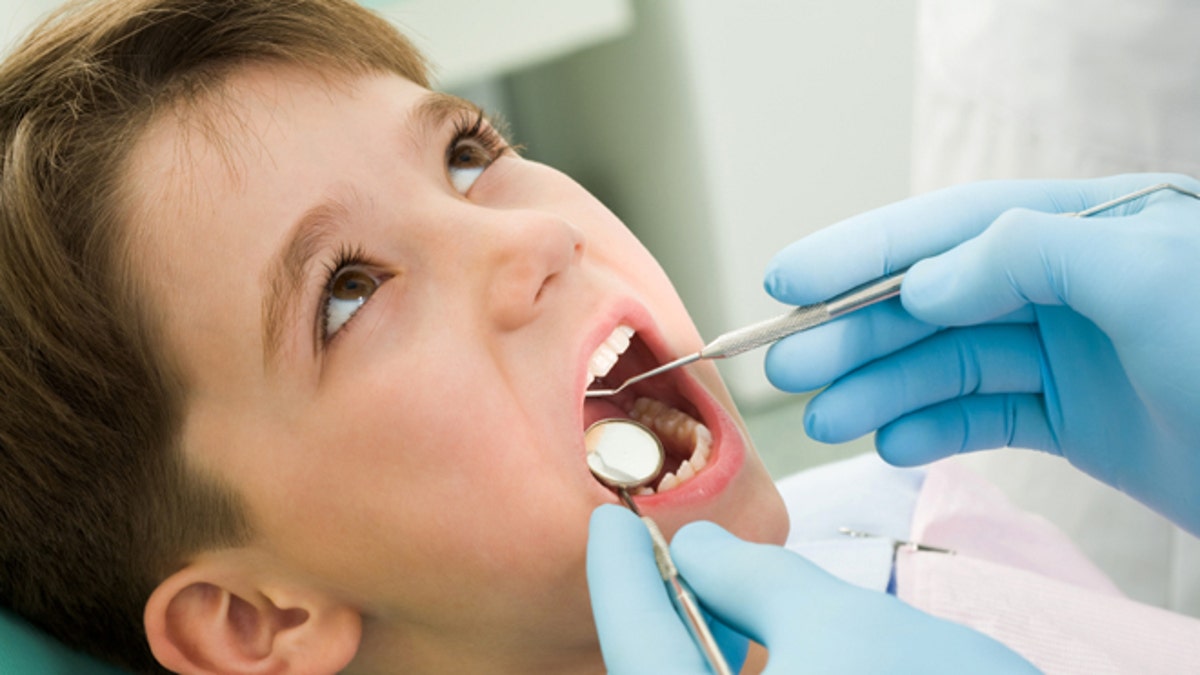 You were probably terrified of going to the dentist as a kid, but with consistent oral hygiene, regular dental visits and the new technology now available, your kids don't have to be.
Even so, some kids are still anxious about dentist appointments. Usually it's because they don't know what to expect, but one of the most common reasons actually has to do with you.
In fact, a study published in the International Journal of Paediatric Dentistry found that if one family member was anxious about dental visits, that fear was oftentimes passed onto other members.
What's more, children took cues from their dads when deciding if the dentist was something to fear.
"Sometimes parents project their own feelings about going to the dentist onto their children," Dr. Steven G. Goldberg, inventor of the DentalVibe Injection Comfort System said.
The good news is that if your children are scared of the dentist, there are ways to help ease their fears. Try these tips:
Start brushing early.
Even if your baby doesn't have teeth, you should clean his gums with a baby toothbrush, finger cot or wet cloth after each feeding. Introducing good oral hygiene at an early age prepares kids for examinations and cleanings later on, according to Dr. Bill Dorfman, a cosmetic dentist in Beverly Hills, Calif.
See the dentist before the first birthday.
The American Academy of Pediatric Dentistry recommends children visit the dentist when the first tooth erupts or by age one. Early dental visits get your child used to the dentist and can prevent dental problems and anxiety about dental procedures in the future, Goldberg said.
Talk about it.
Read a book about going to the dentist, explain what to expect or tell your kids about your own positive experience. "Prepare them really well and then they're going to be excited to go," Goldberg said.
Practice at home.
Have your kids sit in a recliner or on the couch and pretend to examine and clean their teeth at home so they'll know what to expect.
Make it fun.
Bring a favorite book or toy for a sense of familiarity and comfort. If you make it a fun, happy experience it will likely translate to a positive visit, Dorfman said.
Be positive.
Regardless of your own past experiences or how you feel about the dentist now, make it a positive time for your kids. Avoid talking about pain or discomfort and emphasize how healthy their teeth will be, for example.
Drop in.
Goldberg recommends going to the office before your child's appointment so he can meet the staff and the dentist so he can see that there's nothing to be scared of.
See a pediatric dentist.
Pediatric dentists have specialized training with kids, use smaller instruments, and usually have kid-friendly offices with bright colors, videos and toys. They're prepared to work with kids who are anxious or have special needs, too.
"It's an easier and more comfortable experience for children," Goldberg said.
Get help.
If you're too anxious to bring your child to the dentist, ask your partner, another family member or a friend to take her. "The worst thing a parent can do is teach that fear to their child," Dorfman said.