9-year-old girl with genetic disorder thrives on donated breast milk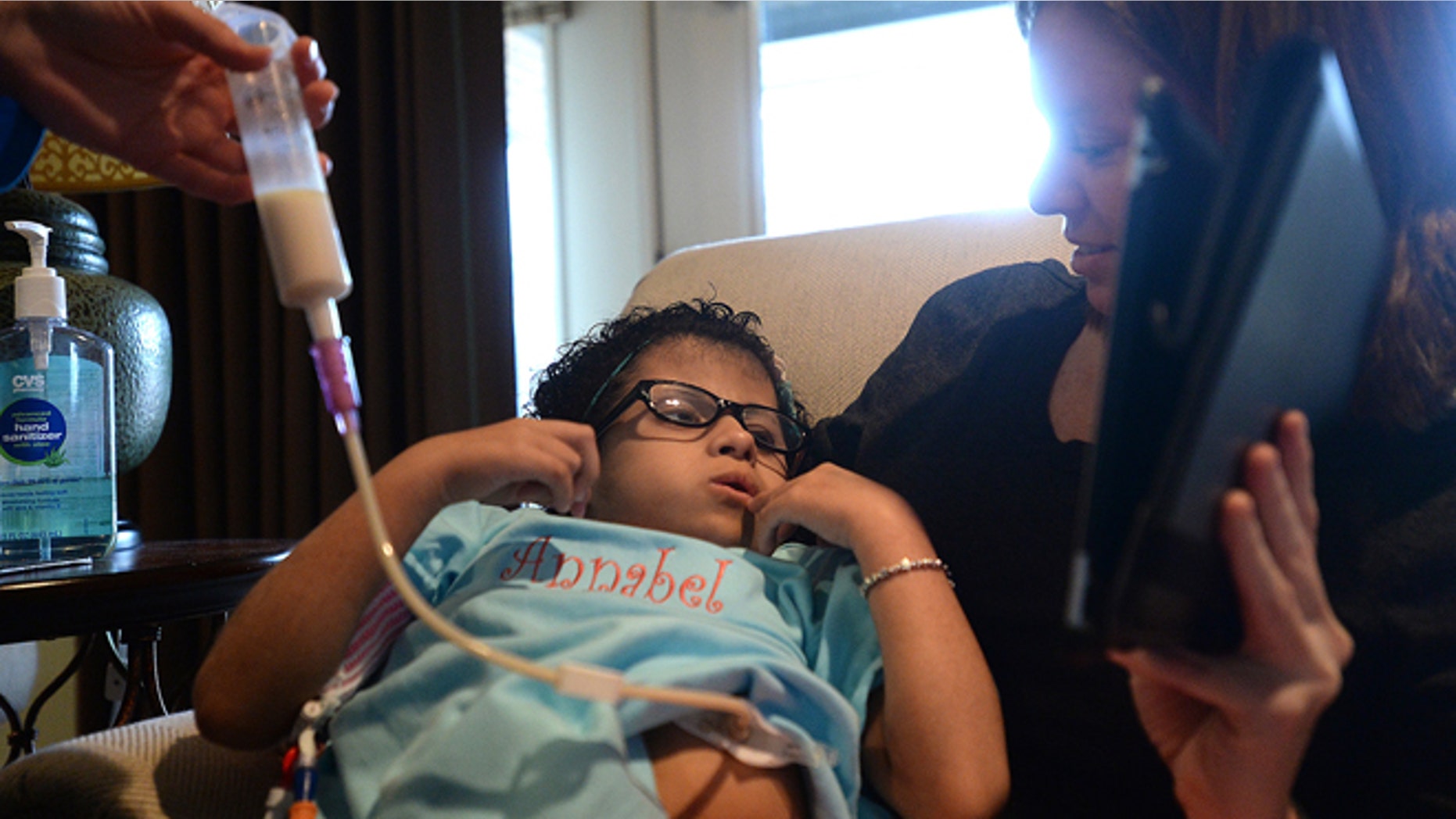 Annabel Shelander sat quietly in her sister's lap, watching an episode of "Barney" on an iPad while a nurse funneled a cloudy white liquid into her stomach.
The 9-year-old is used to eating this way. She has a rare condition that keeps her from consuming and digesting food naturally.
As unconventional as it might seem now, the feeding process used to be much more painful for the Beaumont girl, who was fed nutrients through an intravenous line that ends just above her heart.
The solution pumped through the line, called total parenteral nutrition, made Annabel gag and wretch.
That all changed last month when her mom, Cathy Shelander, approached Beaumont Breastfeeding Coalition members about milk donations.
Shelander, 58, said she and a friend were chatting about Annabel's condition when the topic of breast milk came up.
It wasn't a totally foreign concept for Shelander, who said Annabel was prescribed breast milk when she was about 3 years old. "It's kind of a different thing because she's older," Shelander, who adopted Annabel as a baby, told the Beaumont Enterprise.
Shelander said Annabel's doctors were shocked when she told them she had decided to feed Annabel donated breast milk, since it is not regulated by the FDA.
In the five weeks since Annabel has been taking the donated milk, Shelander said her daughter has seen marked improvement.
The Beaumont Breastfeeding Coalition does not fill requests for donor milk, said Amy Loupe Jones, president of the BBC board. By doing that, the group risks liability issues, she said.
The group is more of a network for nursing moms to give and receive support.
Some of the BBC members, however, took it upon themselves to independently help Annabel.
Shelander said she is cautious when taking the donated milk. She meets with the women ahead of time and goes in their homes to see how their children are doing.
"I always ask if we're taking from her baby," said Shelander. Many of the women have an abundance of breast milk on reserve stored in their freezers, she said.
Breast milk has germ-fighting components and is also easily digestible, said Stacie Jones, a lactation specialist at Christus St. Elizabeth Hospital in BeaumontBE. It's also considered a "living substance" with an element that coats the lining of "immature intestines," Jones said.
The milk helps Annabel with her chromosomal defect called trisomy 18, which has caused a slew of organ abnormalities, intellectual disabilities, an inability to walk and low body weight, Shelander said.
About 50 percent of babies with trisomy 18 are stillborn, and only 5 to 10 percent of children live past age 1, according to the U.S. National Library of Medicine.
The Shelanders ended up with Annabel - a sixth adopted child - by accident.
The Shelanders run the Cradle of Life adoption agency in Beaumont. Annabel's birth mother was a client.
When Annabel's original adoptive parents took her home, she wouldn't eat. After a few days, they brought her back to the hospital, where her birth mother struggled with breast feeding, Shelander said.
She said she noticed a few abnormalities, such as low ear lobes, which she pointed out to doctors. She thought something might be genetically wrong. Despite the abnormalities, Shelander said she thought Annabel was "gorgeous."
"She looked like a little porcelain doll," she said.
When the doctors told the Shelanders of Annabel's diagnosis, they gave the baby only two months to live.
The family talked it over and decided Annabel would stay with them.
"We all agreed it would be short-term," said Shelander. "It doesn't mean I didn't get attached."
After six months came and went, the Shelanders knew there would be no other home for the girl. Annabel was now a member of the family.