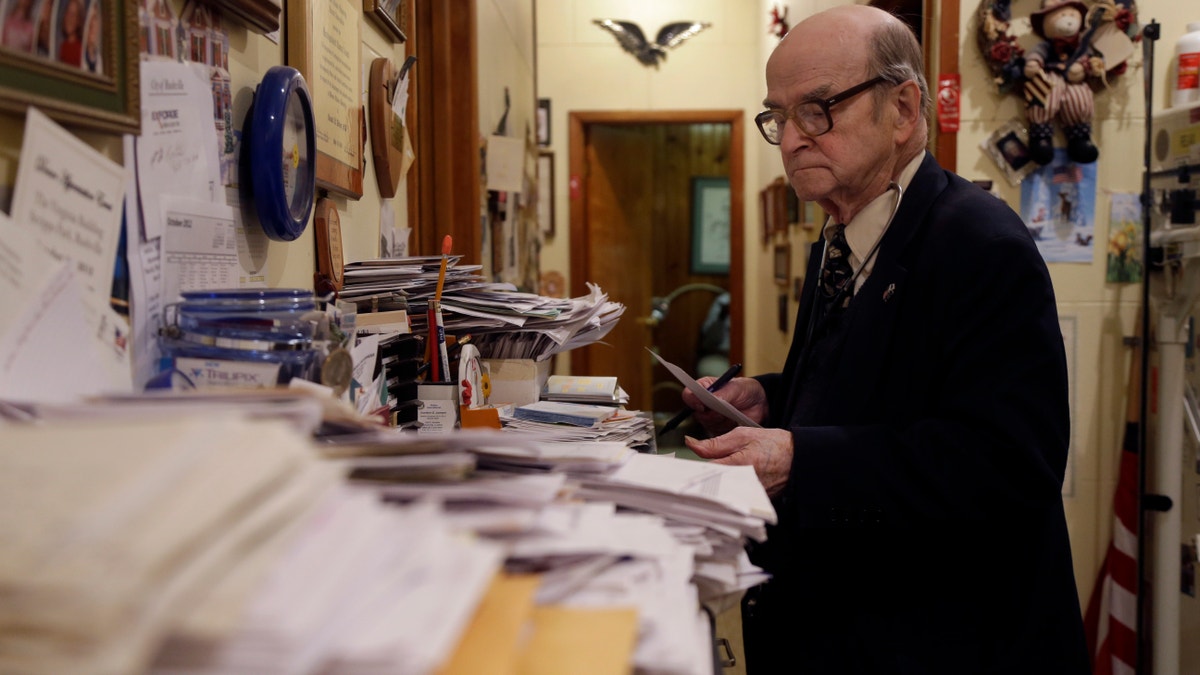 Patients line up early outside his office just off the town square, waiting quietly for the doctor to arrive, as he has done for nearly 60 years.
Dr. Russell Dohner is, after all, a man of routine, a steady force to be counted on in uncertain times.
[pullquote]
Wearing the fedora that has become his trademark, he walks in just before 10 a.m., after rising early to make rounds at the local hospital. There are no appointments. He takes his patients in the order they sign in -- first come, first-served. His office has no fax machines or computers. Medical records are kept on hand-written index cards, stuffed into row upon row of filing cabinets.
The only thing that has changed, really -- other than the quickness of the doctor's step or the color of his thinning hair -- is his fee. When Dohner started practicing medicine in Rushville in 1955, he charged the going rate around town for an office visit: $2.
Now it is $5.
This in an era when the cost of health care has steadily risen, when those who don't have medical insurance often forgo seeing a doctor. But not Dohner's patients. He doesn't even accept medical insurance -- says it's not worth the bother.
"I always just wanted to be a doctor to help people with their medical problems and that's all it's for," the 87-year-old family physician says. "It was never intended to make a lot of money."
It was a sacrifice, yes. His young wife didn't want to stay in such a small town, he says, and so their marriage ended. He never remarried and instead dedicated his life to his work, only leaving this small central Illinois town for medical conferences over the years, never taking a true vacation.
Even when the medical profession changed around him, he was always on call, ready to drop everything for a patient.

These days, though, it takes all his energy just to rise before 7 a.m. to head to the hospital, then to his office and back to the hospital, where the "Doctors' Dictating Lounge," named for his father, is set up with a desk and a cot for the occasional nap.
Most of his income comes from the farm that his family still owns and that is now run by a nephew. So, although he never became a farmer, the farming life made it possible for this country doctor to maintain his practice, his way.
And he intends to keep it going as long as he possibly can.
"As long as I can make it up here, I'll help if I can," says Dohner, who has no plan to retire.