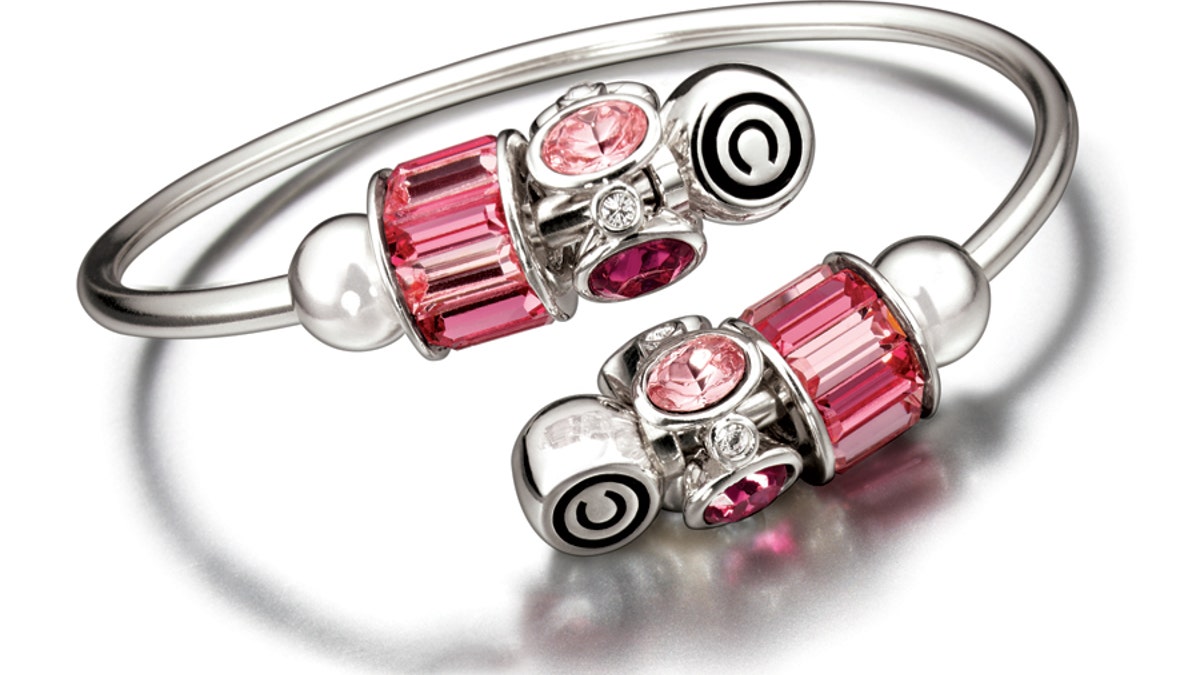 Your new baby is the best holiday present you could ask for, but there's always room on your wish list for something feminine, luxurious, and fun – and something just for you. Check out seven of the hottest products for new moms this year:
1. Looking for a one of a kind, personalized piece of jewelry? With a large selection of beads with mom in mind, Chamilia's bracelets are the perfect way to capture the joy of having your first child in a bold statement piece. New for the holiday season, Chamilia now offers the Swarovski and Cabaret collections for $40 and up. Available at www.chamilia.com and fine retailers nationwide.
2. If you want to shed your post baby weight and get in shape for the New Year, the Polar FT2 heart rate monitor is ideal especially if you're starting to exercise again and need to maximize the short time you have for workouts. You can even strap it on during walks in the park with the baby. The Polar FT2 provides a heart rate target zone for your age, a summary of your last workout, and your average and maximum heart rates. Available at www.polarusa.com and retailers nationwide for $89.95.
3. Got your eye on that hot new wrinkle cream but want to sample it first? Enter bluum, a monthly subscription service that sends you a themed box of 6 deluxe product samples for you and your baby. When you're ready to purchase the full sized versions, simply order them through the website at a discount and get free shipping. You can also earn rewards by reviewing products and when the friends you refer become members. Subscriptions start at $9 a month. Visit www.bluum.com to sign up.
4. Basq Skin Care's Resilient Body Oil Trio Set, is the perfect way to pamper yourself when you need a little pick-me-up or when you want to relax and unwind after a long day. Calm, Fresh, and Revive moisturize and tone your post-baby skin and all include Basq's award winning stretch mark oil blend. And because they're paraben-, phthalate-, and sulfate-free, they're safe during pregnancy and for breastfeeding. $40, plus shipping. Available at www.basqnyc.com.
5. After you've put the baby to bed, why not curl up on the couch with a hot cup of tea and a good read? The new luxury tea brand SoRen Tea has a gourmet selection of eight blended, loose teas in flavors like Cashmere Crème, Coco Chic, and Posh Noir. The Classic and Dessert totes, each with 3 tea selections, are also available for $16.95-$54.50, plus shipping. Available at www.sorentea.com.
6. Want to have the beautiful footage and photos you just shot of your new baby in sync with all your devices, plus be able to back-up, organize, and share? The Eye-Fi Mobile X2 is an 8G wireless memory card that allows you to automatically transfer your photos and video from your camera to your smartphone, tablet, and computer without connecting any cords or searching for a Wi-Fi hotspot. You only need the card, the free Eye-Fi app, and your camera. Available at Best Buy, Apple stores, and Amazon.com for $79.99.
7. If you're breastfeeding, you know how important it is to have a functional yet comfortable nursing bra. With HOTmilk's new collection, Essentials, you can also feel like the sexy mom you are. The collection included seamless, supportive, and feminine bra sets, available in cup sizes B-H as well as a new shapewear collection to flatten and shape your post-pregnancy body for $18.80-$59.95. Available at www.hotmilklingerie.com and stores nationwide.
Julie Revelant is a freelance writer specializing in parenting, health, and women's issues, a certified Spinning® instructor, and a mom. Learn more about Julie at revelantwriting.com