500 More Blackbirds Die, Deepening Mystery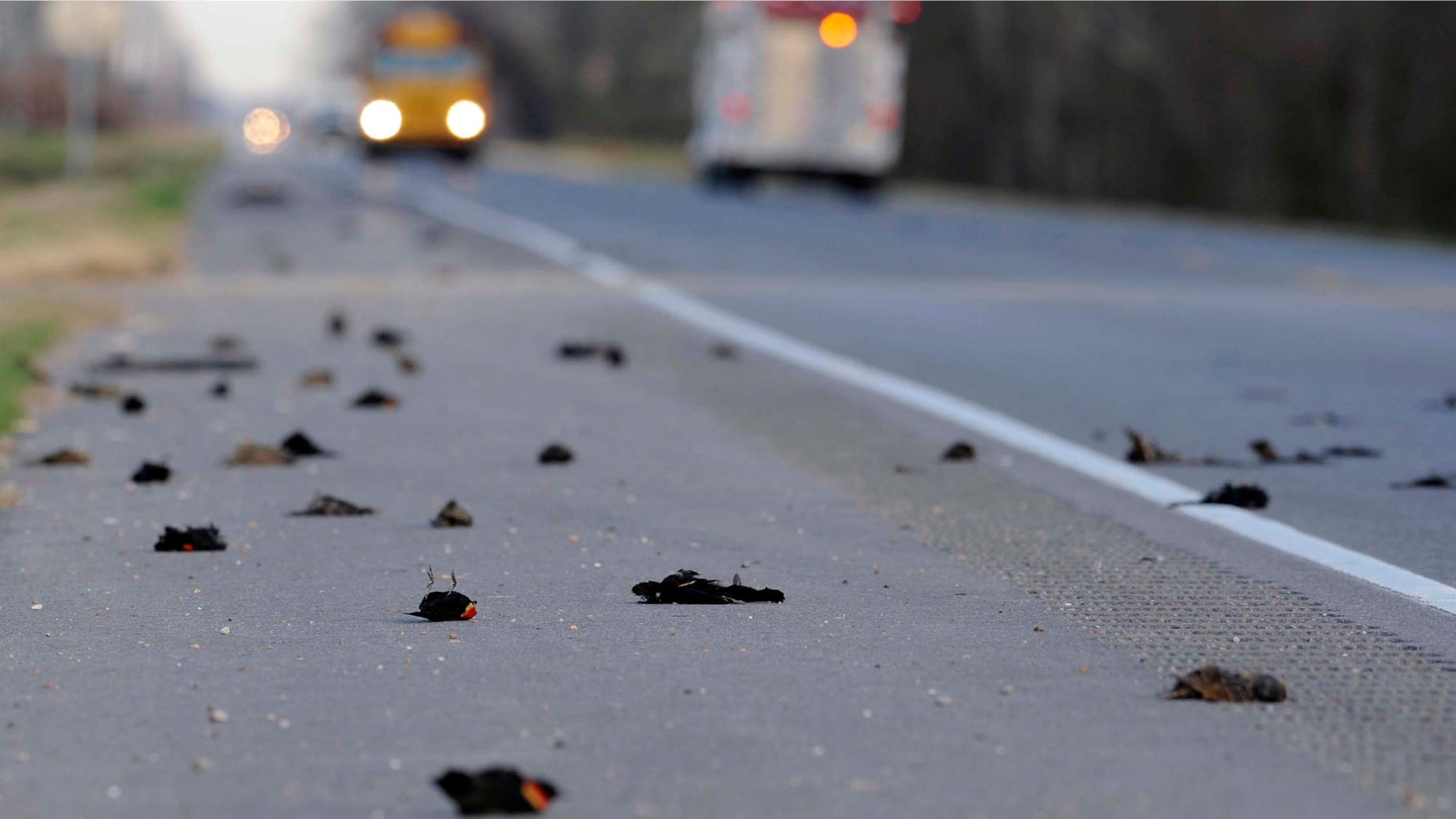 An estimated 500 red-winged blackbirds and starlings were found dead in Louisiana, a local newspaper reported – just a few days and a short distance away from where thousands more plummeted to their death in Arkansas.
The blackbirds in Louisiana littered a quarter-mile stretch of a state highway in Point Coupee Parish, near the city of Labarre, the Advocate reported Monday.
Biologists are sending some of the birds found at Labarre to laboratories in Georgia and Wisconsin for testing. It was not immediately clear what caused their deaths.
The mysterious mass bird deaths was just 360 miles to the south of Beebe, Ark., where up to 5,000 blackbirds fell from the sky over the holiday weekend.
Investigators believe that celebratory fireworks caused the caused the birds to rain down onto homes and cars in Beebe before ultimately falling to their deaths.
But the actual reason for their death might never be known for sure, officials say.
So for the small town of Beebe, Ark., where New Year's revelers spent the holiday weekend cleaning up between 4,000 and 5,000 dead blackbirds, The Mystery of Why the Birds Fell Out of the Sky remains unsolved.
It's unclear if the mass deaths in both states are connected.
In Arkansas, some speculated that a bout of bad weather was to blame. Others said one confused bird could have led the group in a fatal plunge. A few spooked school kids even guessed that the birds had committed mass suicide.
"There was probably some physical reason, but I doubt anyone will ever know what it was," said Thurman Booth, the state's wildlife services director.
The birds were the second mass wildlife death in Arkansas in recent days. Last week, about 83,000 dead and dying drum fish washed up along a 20-mile stretch of the Arkansas River, about 100 miles west of Beebe. Wildlife officials say the fish deaths are not related to the dead birds, and that because mainly one species of fish was affected, it is likely they were stricken by an illness. Full test results could take up to a month.
While officials examine bird carcasses in Arkansas for signs of disease and labs test the contents of their stomachs for toxins, the tale of the blackbirds' tumble is quickly turning into the stuff of local legend.
The blackbirds rained onto rooftops and sidewalks and into fields. One struck a woman walking her dog. Another hit a police cruiser. Some say an umbrella was one resident's only protection from the falling birds.
Birds were "littering the streets, the yards, the driveways, everywhere," said Robby King, a county wildlife officer in Beebe, a community of 5,000 northeast of Little Rock. "It was hard to drive down the street in some places without running over them."
A few stunned survivors stumbled around like drunken partiers.
There was little light across the countryside at the time, save for the glimmer of fireworks and some lightning on the horizon. In the tumult, many birds probably lost their bearings.
"The blackbirds were flying at rooftop level instead of treetop level" to avoid explosions above, said Karen Rowe, an ornithologist with the Arkansas Game and Fish Commission. "Blackbirds have poor eyesight, and they started colliding with things."
Shane Roberts said it sounded like hail pelting his house.
"I turn and look across my yard, and there's all these lumps," Roberts said.
Red-winged blackbirds are among North America's most abundant birds, with somewhere between 100 million and 200 million nationwide, according to the Cornell Lab of Ornithology in Ithaca, N.Y.
Rowe said Tuesday that between 4,000 and 5,000 birds had died in Beebe. That's up from initial estimates of 3,000, she said, because hungry cats and dogs likely snatched up lots of carcasses overnight.
The Game and Fish Commission shipped carcasses to the Arkansas Livestock and Poultry Commission and the National Wildlife Health Center in Madison, Wis. Researchers at the University of Georgia's wildlife disease study group also asked for a set of birds.
"They died from massive trauma," said Game and Fish Commission spokesman Keith Stephens, citing a report from the state poultry lab where the birds were examined.
Residents heard loud fireworks just before the birds started hitting the ground.
"They started going crazy, flying into one another," Stephens said.
The area where the birds fell is too large to determine if any specific blast rousted the birds, Police Chief Wayne Ballew said.
"It was New Year's Eve night. Everybody and their brother was shooting fireworks," the chief said. The city allows fireworks only on New Year's Eve and Independence Day.
Based on reporting by The Associated Press.
Follow us on twitter.com/foxnewslatino
Like us at facebook.com/foxnewslatino