5 ways to lighten up any recipe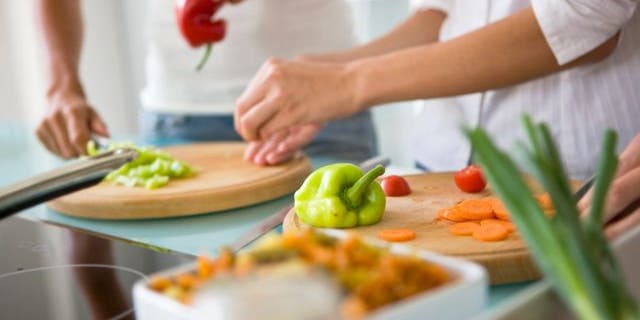 Replace ground beef with lean turkey
Not only will you cut half the calories and fat, but cooked lean ground turkey yields more meat than regular ground meat when cooked.
Tanya's tip: Instead of making the usual beef burger make it a turkey burger or prepare a batch of hearty chili with lean ground turkey that offers the same great taste with half the fat.
Mince high-fat ingredients
When a recipe calls for bacon, use less and still get lots of bacon flavor by finely chopping it into bits. Not only will your dish will be lower in fat and calories, those tasty bits will distribute more evenly ensuring you get some bacon in every bite.
Change your coating
Traditional breadcrumbs are packed with oil and they add unnecessary calories to a recipe. Instead, use a low sugar, high-fiber, crunchy cereal for breading cutlets and binding meatballs. You'll reduce the fat and calories and give your dish a healthy boost of fiber.
Swap out sour cream for Greek yogurt
Greek Yogurt contains about half the calories and fat, and three times as much protein as fattening sour cream. Greek yogurt makes a creamy base for dips, dressings, and dishes such as potato salad.
Thicken with veggies
To add thickness to your soups, gravies, and sauces, use puréed vegetables instead of a typical cream or roux. This will give your recipe the right consistency, without the added calories and fat.
For delicious high fiber meal plans, recipes and tips on healthy eating, drinking and losing weight, check out my latest book, The Miracle Carb Diet: Make Calories and Fat Disappear – with Fiber!
Tanya Zuckerbrot MS, RD, is a registered dietitian in New York City and the bestselling author of The Miracle Carb Diet: Make Calories and Fat Disappear – with fiber as well as the F-Factor Diet. Follow Tanya on Facebook, Twitter and LinkedIn, and register for new weekly newsletter by visiting her website Ffactor.com.