5 'healthy' snack shockers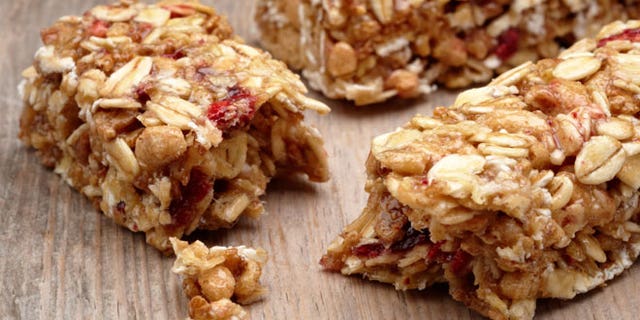 When it comes to snacking, many of us aim to make healthy choices. But check out these popular go-to snacks that may not be quite as healthy as you think.
Trail Mix
Many varieties of trail mix contain unsalted nuts, seeds, dried fruits, and candy bits, which is fine provided you stick to a single portion. Some packages of trail mix contain upwards of six servings! It is important to keep in mind that just a handful can pack 300 calories or more, and as much sugar and fat as a dessert. Best bet: Compare brands with an eye for ingredients, portion size and calories per portion.
Granola
Hard to believe, but a half-cup serving of this seemingly healthy snack can weigh-in at 600 calories or more… before adding milk! True, the oats and nuts in granola are a good source of fiber and protein, but for extra flavor and to help preserve freshness some manufacturer use a lot of sugar – as much as 20g per serving. This doesn't mean you have to cross granola off your shopping list. Be picky because you'll find brands that are tasty as well as lower in sugar, calories and fat.
Yogurt
This creamy, fruity snack seems so innocent, but on closer look you'll discover that fruit-on-the-bottom varieties can be devilishly high in carbohydrates and sugar. Best bet: Go for plain fat-free Greek-style yogurt, which is richer in protein than traditional yogurt and far lower in carbohydrates and sugar. For a sweet yogurt treat with a nice fiber boost, mix with chunks of fresh fruit or berries.
Protein Bars
Their name implies "healthy," but nutritionally some of the best-known protein bars are more like candy bars – sugary calorie bombs high in carbohydrates with little to no fiber. The good news is that there are truly great protein bars on the market that are amazingly good and good for you. Check out any of these popular brands: Quest Bar, Chia Bar, and Think Thin.
Avocado
No question avocado is a good source of heart-healthy fat. What you need to know is that one serving of avocado is just two tablespoons, which isn't much considering that sushi rolls and salads often contain more than twice that amount. Given its small portion size, it's best to think of avocado as a healthy ingredient rather than a stand-alone snack.
Tanya Zuckerbrot MS, RD, is a Registered Dietitian in New York City and the author of two bestselling diet books: The F-Factor Diet and The Miracle Carb Diet: Make Calories and Fat Disappear – with Fiber.
Subscribe to Tanya's FREE Weekly Newsletter and follow her on Instagram, Facebook, Twitter and Pinterest. To learn more about Tanya's private nutrition counseling services visit www.ffactor.com