5 healthful ways to incorporate pumpkin into your diet this fall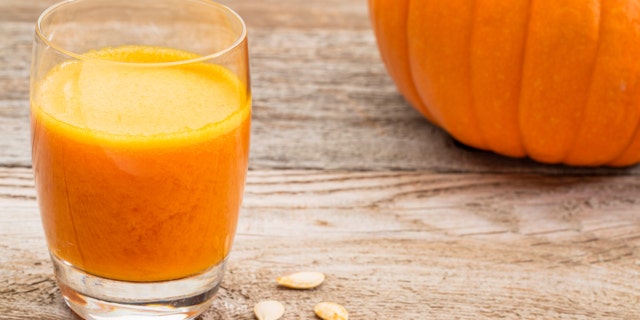 It's starting to get a little cooler outside, and that means, pumpkin season is about to be in full swing. At 50 calories and 3 grams of fiber per cup, there is definitely a place for pumpkin in most diets. Ditch the pumpkin spice latte which can contain up to 50 grams of sugar, and incorporate pumpkin into your diet in a more healthful manner using these tips:

1. Pumpkin hummus:
With all the new variety of hummus is available, it seems like it is possible to combine hummus with almost anything. Combining pumpkin with hummus yields a delicious dip that is lower in calories, higher in fiber and more filling than traditional hummus. You can eat this dip with bran crackers, whole wheat bread/pita or raw vegetables like celery or green pepper. You can even use it as a salad dressing or as a substitute for mayonnaise in recipes. Just add a can of pure pumpkin to your traditional hummus recipe and you will get a sweet tasting hummus alternative.
2. Pumpkin bran muffins:
Don't have time for breakfast? No more excuses. Make a couple of batches of these pumpkin muffins and freeze them. Just defrost two the night before and pop them into the microwave or oven in the morning and there you've got a quick breakfast on the run. Combine this with a plain Greek yogurt for some protein. What a great way to start your day. Consider adding pumpkin to any simple oat bran muffin recipe that you normally use. The pumpkin will not only add flavor but will also reduce the carbohydrate content of your muffins.
3. Pumpkin and feta cheese spinach salad with chickpeas and roasted pine nuts
Roasted pumpkin can be a wonderful addition to many salads. If you're having difficulty eating spinach due to its bitterness yet you don't want to use sugar, try adding roasted spiced pumpkin cubes for sweetness. Combine your salad with light feta cheese, some chickpeas, a drop of olive oil and a few roasted pine nuts and you've got yourself a delicious wholesome lunch which includes all of the major macronutrients.
4. 'Cream' of pumpkin soup
Pumpkin soup is perfect for fall as the days start to get cool and you just want to curl up near the steam. It will satisfy your craving for that heartwarming dish. Flavor your pumpkin soup with cinnamon, nutmeg and ginger, spices we know and love during this time of the year. Don't get scared of the word cream in the recipe name; there is no heavy cream involved. Cook raw pumpkin with parsnip, fresh garlic and onion and blend when vegetables are soft. Spice with salt, pepper, cinnamon and cumin. For creaminess, use unsweetened coconut milk. This soup is dairy free and gluten free.
5. Pumpkin protein low-carb smoothie:
When switching to a low carb diet, many people think that smoothies are off the table. While it is true that most traditional smoothie recipes are high in sugar, you can create your own that is low in carbohydrates. This is a great breakfast smoothie, that includes the very important morning protein: simply blend pumpkin puree with unsweetened almond milk, some fat-free Greek yogurt and/or protein powder, salt, cinnamon, ice cubes and your favorite alternative sweetener. A spoonful of chia seeds will thicken your shake and make it more filling, not to mention the omega 3's. Sprinkle with unsweetened toasted coconut for beauty and taste.