10 ways to cut calories from your burger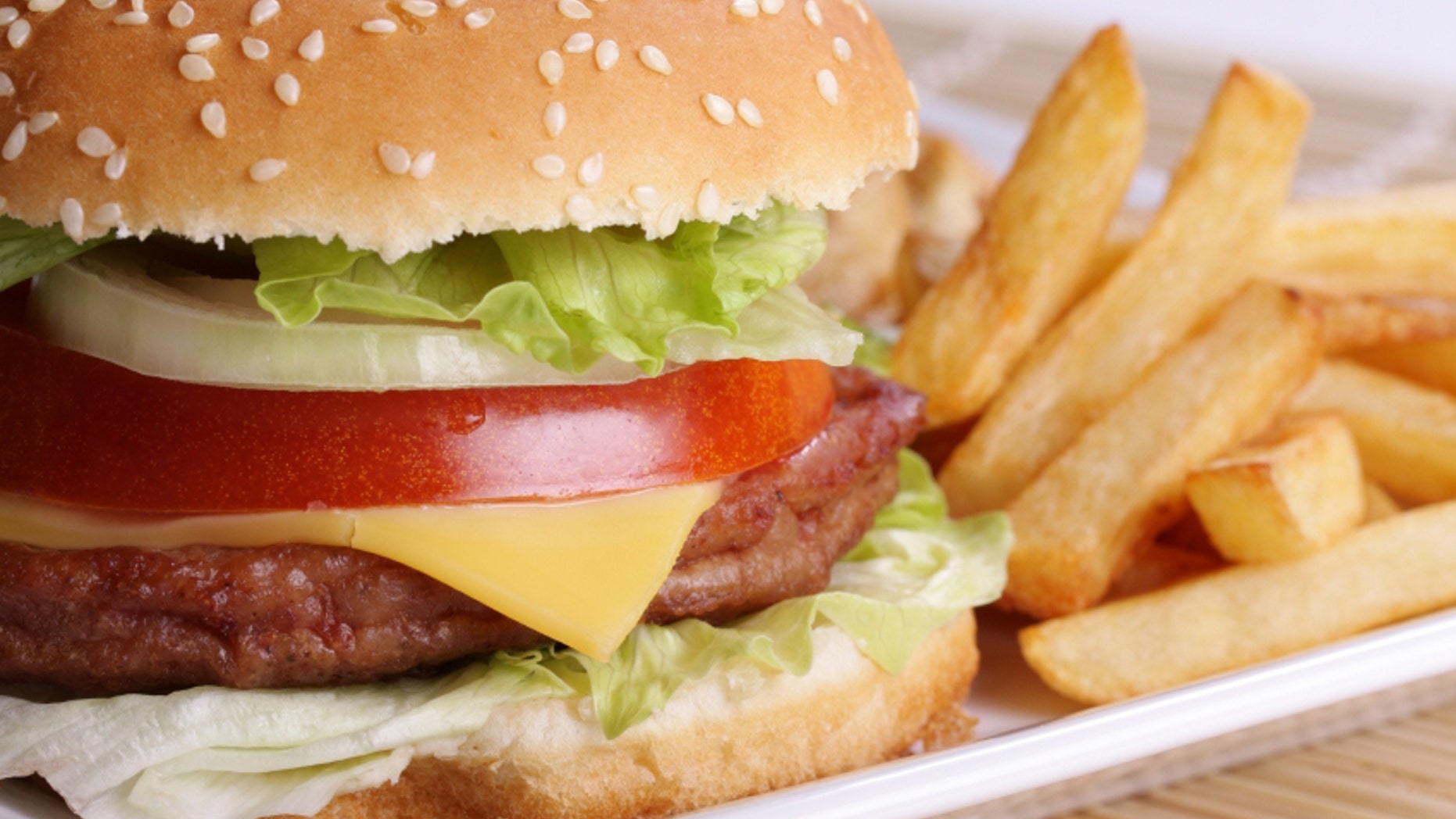 You can ditch the bun—but where's the fun in that? We asked food bloggers for their go-to swaps, add-ins and waistline-friendly serving suggestions so you can enjoy your burger and still fit into your bikini.
Swap meat with mushrooms
If you're concerned about calorie and saturated fat content, Fannetastic Food blogger Anne Mauney, registered dietician (R.D.), said, try replacing half the meat with finely chopped mushrooms.
"The mushrooms have a nice, hearty texture that goes well with ground turkey or beef, so you won't notice the difference," she said. Plus, they'll add a healthy punch of B vitamins and fill-you-up fiber.
More from Self.com: 2013 Best Healthy Beauty Buys
Use turkey...and make it tasty
How? Supersize your spices.
"Since lean meat might not have as much built-in flavor, increasing the seasonings is a good way to make it just as tasty," Lindsay Livingston, R.D., who blogs at The Lean Green Bean, said. "Try curry powder for an Indian-inspired burger, or add some ginger, Thai chili sauce and peanut butter for Asian inspiration."
These 421-calorie Sicilian-style turkey burgers are made with tomato paste, capers and dried basil.
Get handy
To keep portions in check, make your burger patties no bigger than the palm of your hand,  Deanna Segrave-Daly, R.D. and Serena Ball, R.D., who blog at Teaspoon Of Spice, said. If you love cheeseburgers, make them a bit smaller then load up on veggies.
"Use a good tasting reduced-fat cheese, like Cabot Light Cheddar or part-skim mozzarella," they suggest.
More from Self.com: 6 Moves To Resize Your Butt and Thighs
Add avocado
You won't slash any calories with this trick, but you'll get your fill of heart-healthy, monounsaturated fats—and you may be less likely to go back for seconds.
"To amp up the flavor, I love topping a burger made with lean ground beef with creamy slices of avocado," personal trainer and food blogger Julie Fagan, of Peanut Butter Fingers, said.
You can also make a super-quick guacamole topping, she adds, by mashing avocado in a bowl with a spoonful of fresh salsa.
Bring in Brussels sprouts
Instead of store-bought meatless patties, try The Diva Dish blogger Arielle Morasco's unique variation on vegetarian: she makes her Brussels Sprout Burgers with navy beans, oats, egg and plenty of spices.
"Then you top it off with a sweet and a little spicy strawberry salsa, a few crumbles of creamy goat cheese and a sweet drizzle of thick balsamic vinegar to pull all the flavors together," she said.
More from Self.com: 20 Superfoods For Weight Loss
Share your plate
When Kath Younger, R.D., attends backyard barbecues, the last thing she wants to do is sacrifice flavors. So the Kath Eats Real Food blogger tries everything there, but keeps her portions small.
Play with mix-ins
Peanut Butter and Peppers blogger Jennifer Drummond loves mixing fresh cherries and jalapeños into her hamburger meat before grilling.
"You get a slight sweetness, a kick of heat, and a savory flavor from all of the seasonings," she said of her recipe. Healthy mix-ins means less calorie-laden condiments.
Sneak in squash
"I love to bulk up my burgers by adding shredded zucchini to the beef," Lauren Keating, the girl behind the blog Healthy. Delicious, said.
"Because zucchini has such a mild flavor, you can barely taste it. Plus, since it adds so much moisture, you can get away with using leaner beef than normal." (In her recipe, she uses a 1-to-1 ratio, and 90 percent lean ground beef.)
Fill up on oat fiber
You can hide more than just fruits and veggies into your burgers, Missy Chase Lapine, creator of Sneaky Chef Foods, said. She makes her Barbell Burgers healthy by adding filling oat bran fiber, along with spinach, frozen blueberries and tomato puree.
Hold the mayo, pass the mustard
Nix the cheese and the high-calorie mayonnaise, Robyn Coale, R.D., said and opt for whole-grain or hot and sweet mustard (she love the Trader Joe's kind), instead.
"Smokey sweet grilled onions also add tons of flavor without calories," Coale, who blogs at The Real-Life RD said. Want fries with that? Eat your burger over a bed of salad instead of on a bun, she says, and enjoy a (small) starchy side, guilt-free. Click here for a list of the best and worst condiments.
This article originally appeared on Self.com.