10 Mother's Day gifts you'll love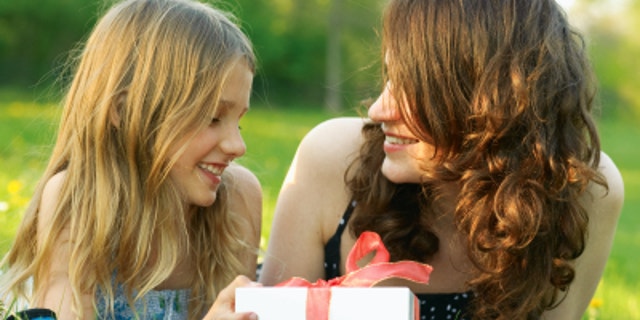 Every mom needs simple ways to feel healthy, balanced, and beautiful. Here, check out 10 hot new picks you'll covet this Mother's Day.
1. GoBites is a convenient way to keep up your energy and stave off mid-day hunger. A subscription-based service, GoBites delivers a personalized selection of nutritionally-balanced, portion-controlled snacks to your home or office. They'll create personalized packs based on your preferences or you can pick you own. There are 24 combinations to choose from and most are certified organic. Each box includes 14 GoBites and you decide how often you want them delivered. $27.86, includes shipping. For a limited time, the first box is free, plus $4 shipping. Available at gobites.com.
2. Look stylish without the stress with Marcy McKenna's Cambia Collection, a chic, runway inspired, three in one handbag that gives you three couture looks to suit every occasion and style. The interchangeable flaps, "City Chic," "Rocker Chic," and "Quilted Couture," stack flat to save space at home or when traveling. Made of the same lambskin leather used in Chanel bags, the Cambia Collection comes with a full chain and wristlet for even more customization. $149.00. Available at marcymckenna.com.
3. Go green as you work out or take a time out with The House of Marley's Smile Jamaica In-Ear Headphones. Crafted from FSC-certified wood, the in-ear headphones offer noise-isolation and a comfortable fit with three sizes of ear tips and premium sound quality. Available in three cable types and four colors, five percent of sales will be donated to 1Love.org, an organization that provides funding to charities and causes focused on youth, planet, and peace.$29.99-$49.99, available at thehouseofmarley.com.
4. Get a curated, themed box of holistic health, fitness and wellness products each month with KLUTCHclub. Each box contains $50 worth of products like yoga DVDs, teas, organic skincare items, and vegan protein bars. You'll learn about new, niche brands and products that suit your lifestyle, and also get access to exclusive deals and offers from companies that share your values. Subscriptions are available in 1-, 3- or 12-month denominations. $17-$18 per box. Available at www.klutchclub.com.
5. Protect your iPad from little hands that may drop it with the M-Edge SuperShell. The closed-cell foam absorbs shock if the iPad is dropped and has thick, high-impact corners, a dimpled texture for a no-slip grip, and is available in 4 bright colors. $34.99. Available at medgestore.com and major retailers nationwide.
6. Have all of your entertainment right at your fingertips with Amazon's Kindle Fire. The 7 inch vibrant color touchscreen gives you access to the web, apps, and games, as well as over 20 million books, magazines, movies, TV shows, songs. The Kindle Fire is also a great way to live a healthier lifestyle with fitness apps like MyFitnessPal, recipe apps like Allrecipes.com, and wellness reads like 52 Small Changes: One Year to a Happier, Healthier You. $199. Available at amazon.com.
7. Fit in more activity each day with Striiv, a small "smart" pedometer that counts steps, stairs, calories, distance, and minutes of activity and uses games and personal challenges to motivate you to move more. Get the whole family moving more too with their new social feature that allows you to compete against each other and bet household chores on the results. Plus, with every step taken, Striiv and their corporate sponsors make donations to charitable organizations. $99, available at Striiv.com, Amazon, HSN, BestBuy.com and Best Buy locations nationwide.
8. Treasure your children's sentiments with the Love Mom Bangle and Necklace. Both silver-plated pieces feature Swarovski accents and etched words like "caring," "generous," and "hero." $36 each. Available at www.brighton.com, Brighton Collectibles stores, and specialty nationwide retailers.
9. Keep your iPad clean in the kitchen with Belkin's Chef Stand + Stylus. The stand is case-compatible, has a non-slip rubber base, and adjusts to two different angles. The stylus lets you scroll through recipes, check email, or browse online. $39.99. Available at belkin.com and major retailers nationwide.
10. Wish you had a personal trainer for every workout? Now you can with the PEAR Square One, a 'smart' training system that uses a wireless heart rate monitor and foot pod to measure your body's response to a workout and deliver real-time coaching based on how your body is reacting to that workout, all while infusing your favorite music. PEAR delivers on-demand workout stats—with one push of a button your music fades, and you get heart rate, pace, time and distance without having to look down or break stride. It also includes access to your own online portal to view, track and select workouts and unlimited access to all of the training plans and workouts in the plan store. $249.99, available at Pearsports.com.
Julie Revelant is a freelance writer specializing in parenting, health, and women's issues and a mom. Learn more about Julie at revelantwriting.com