Meet the man hiking the entire Western Hemisphere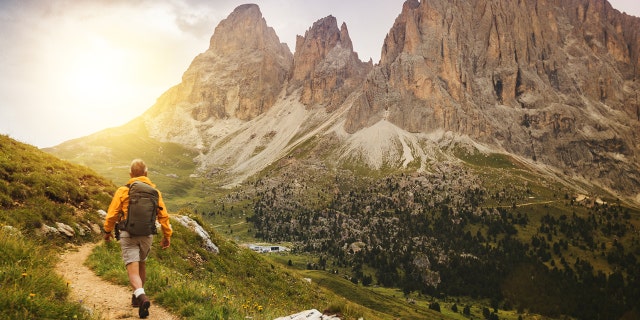 Though the longest possible land journey across the Americas has never before been completed in a single go, Holly Harrison is on the road to making history — he has 15,000 miles under his belt and is feeling just fine.
Stepping back onto American soil on Nov. 3 after setting out in Ushuaia, Argentina on Dec. 17, 2016, the 57-year-old North Carolinian credits good planning with his swift timing.
"At night, I never veer more than 50 yards off the road. I'm as efficient as possible," Harrison told Outside magazine.
The former U.S. Army Ranger and kids' camp program director has already moved through 12 countries, hiking north through South and Central America, and he won't stop until he's reached Prudhoe Bay in Alaska.
NINE-YEAR-OLD COMPLETES 'TRIPLE CROWN' OF THRU-HIKING, SAYS HIS 'FEET ARE HAPPY TO BE DONE'
If Harrison ─ known as "Cargo" on the trail ─ achieves his goal, he would be only the third person to hike from Patagonia to Alaska, walking the entire Western Hemisphere.
British adventurer George Meegan was the first to complete the journey but it took him seven years, from 1976 to 1983, according to Outside magazine. Fellow Brit Karl Bushby soon followed in his footsteps, hiking from 1998 to 2006.
Now Harrison is trying to wrap up the trip in just 20 months and set the fastest time record yet. "People are always telling me, 'You should see this along the way,' but I'm in a race," he said.
82-YEAR-OLD FINISHES APPALACHIAN TRAIL, BECOMES OLDEST TO EVER COMPLETE HIKE
He is two-thirds of the way through and actively chronicling his adventures on his his official Facebook page for the trip.
This isn't the first time Harrison has attempted to conquer the magnificent journey.
Four years after successfully hiking all 2,200 miles of the Appalachian Trail, Harrison first set out on the Western Hemisphere trail in 2015. On a rainy night two months and 1,700 miles in, however, he fell in a hole, tore a tendon and was forced to return stateside for surgery.
After recovering, instead of picking back up where he left off, he determinedly returned to Patagonia, amidst hurricane winds, to begin again.