How to make the 'deer stand-wich'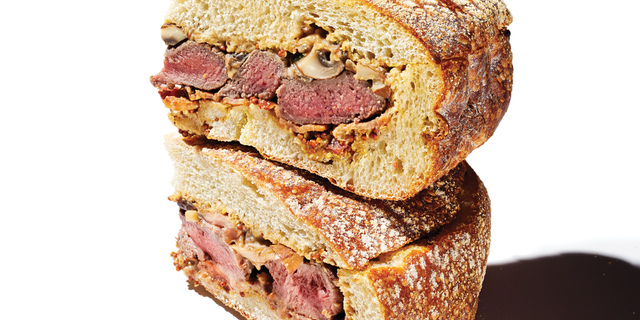 The "shooter's sandwich" became something of an Internet meme not long ago, triggered by a British food writer's deeming it the best sandwich in the world.
Loading a hollowed-out loaf of bread with steak, mushrooms, shallots, and a fat dose of horseradish yields a kind of portable beef Wellington—the pinnacle of British cuisine reinvented as a trail snack. Hunters like us (i.e., real shooters) saw the potential for a game version—an ideal pack-along for sustenance on a long day afield.
RELATED
Monster 6x6 Typical Killed in Texas
Wingshooting: Heavy Shotguns for Faster Shooting
Fisherman Catches 14-Pound Spiny Lobster Following Hurricane Nicole

Ingredients
2 to 4 boneless venison steaks
1 sourdough boule, ciabatta, or any other unsliced loaf of bread
2⁄3 cup prepared mustard, divided
1⁄2 lb. bacon
3 Tbsp. butter, divided
8 oz. shiitake or other mushrooms, diced
2 shallots, minced
2 garlic cloves, minced
1⁄2 cup brandy
1⁄2 cup heavy cream
2 Tbsp. rosemary, chopped
1 Tbsp. olive oil
3 Tbsp. prepared horseradish
Salt and pepper
Instructions
Slice off the top quarter or so of the loaf of bread, horizontally, to make a lid. Scraping with your fingers, hollow out the loaf by removing most of the fluffy crumb, creating a kind of bowl. Slather the bottom with about half of the mustard. (I prefer coarse ground.) Gauge the venison steaks to make sure they'll fit snugly inside, trimming as necessary.
Heat a sauté pan over medium heat. Add the bacon and cook, flipping, until the bacon has released its fat and is cooked through but not crispy. Transfer the bacon to the bread bowl, laying the slices flat.
Add 2 Tbsp. butter to the bacon fat and increase the heat to medium-high. Add the mushrooms and shallots and cook, stirring frequently, until the mushrooms begin to brown, about 5 minutes. Add the garlic, along with generous doses of salt and pepper, and continue to cook, stirring, for another 2 minutes.
Turn off the heat. Add the brandy to the pan, and allow it to bubble down for a minute. (Be careful: An open flame or spark can ignite the brandy into a flambé. If this happens, just smother it with a lid.) Return the pan to the burner over medium heat, and once the brandy has evaporated add the cream. Cook, stirring, for about a minute, until the cream has reduced to a saucelike consistency. Stir in the rosemary, hit it again with salt and pepper, and set aside to cool.
Set a large skillet over high heat and add the remaining butter and the olive oil. Salt and pepper the venison steaks. Sear them, in batches if necessary, until just medium-rare.
As the steaks are done, transfer them directly to the mustard-slathered bread bowl. Smear the horseradish onto them, then spread the mushroom mixture over top. (Feel free to layer the steaks and mushrooms as you like, lasagna-style.) Slather the remaining mustard on the underside of the bread lid and set it back on the loaf.
Wrap the loaf in two layers of aluminum foil, sealing it tightly, and set it on a sheet pan. To compress it, place a heavy cutting board on top and then weight it down with whatever you've got on hand: bricks, weights from a barbell, anything heavy.
Allow the weights to do their work for at least 6 hours, or overnight, in a cool spot. (You can refrigerate it if you prefer, but that's not necessary.) To serve, unwrap the foil and slice into cakelike wedges. Serves at least 6