Florida man's 826-pound bluefin tuna catch becomes new state record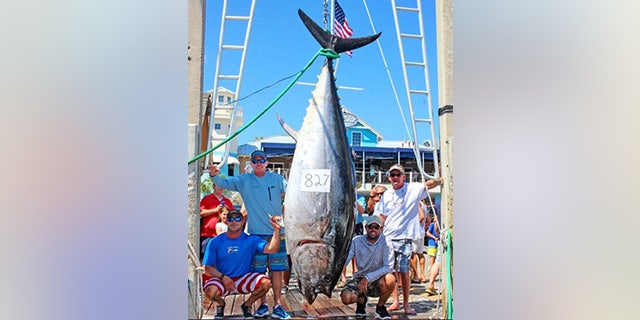 A Destin, Florida man's 826-pound, 8-ounce bluefin tuna catch has officially become one of the five new saltwater fishing records in the state, the Florida Fish and Wildlife Conservation Commission (FWC) announced Tuesday.
Angler Rick Whitley caught the massive tuna — which measured 114 inches in length and 80 inches around — off a fishing boat called "You Never Know" in May 2017, according to the FWC.
"Whitley's impressive catch took the vacant bluefin tuna state record slot, filling the final vacancy in the conventional tackle category," the FWC said in a news release.
MASSACHUSETTS FISHERMEN WRESTLE GREAT WHITE SHARK FOR STRIPED BASS IN WILD FOOTAGE
One Tennessee man, Lanny Clark, witnessed Whitley make fishing history in the state.
"I was just blown away when I finally saw the fish. I've never seen anything like it," Clark told the Tennessean at the time, adding that Whitley worked for three hours to reel the fish in.
The bluefin tuna, which "fought to the death," Clark said, had an estimated market value of $20,000.
PENNSYLVANIA ANGLERS FIND TERRIFYING 'FRANKENFISH' SNAKEHEAD IN CREEK
The four other record catches that were recently approved by the FWC include a 4-pound, 8-ounce hardhead catfish caught by Ethan Pillitteri; a 35-pound, 9-ounce almaco jack caught by Lewis Sapp; a 2-pound kingfish caught by Raymond A. Hathorn, Jr.; and a 26-pound horse-eye jack caught by Sharon Kartrude Pryel.
Whitley did not immediately respond to Fox News' request for comment on Wednesday.