Fishermen found with over 50 illegally caught lobsters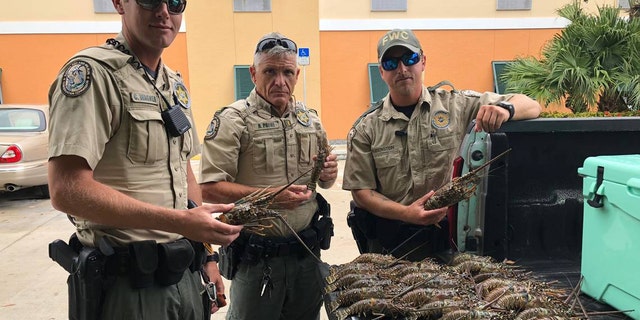 Two Florida men have been arrested after Florida Fish and Wildlife Conservation Commission officers caught them with dozens of illegally fished lobsters in their truck and in their Holiday Inn Express hotel room.
LOBSTER SHORTAGE SENDS PRICES SOARING AS HIGH AS $49 PER LOBSTER ROLL
The men, Silva Marcelo, 50, and Oliveira Nunes, 38, were questioned by Fish and Wildlife Conservation officers Friday evening in Marathon, Fla. Officers questioned the pair after they appeared to be searching for lobsters, which are out of season until August 6, the Miami Herald reported.
The men reportedly had a long pole net and a snare in their possession – tools for lobster fishing.
Officers discovered 20 lobsters in the back of Marcelo's truck; eighteen of which were undersized and six of the lobsters' carapaces were punctured, the Herald reported. The punctured shells suggest the two were spearfishing for lobsters, which is illegal.
Marcelo reportedly told police he harvested five of the lobsters and bought the rest.
The Pompano Beach men were arrested and each face up to 45 conservation violation counts.
FOLLOW US ON FACEBOOK FOR MORE FOX LIFESTYLE NEWS
The next day, the Herald reported that the Holiday Inn Express called the Monroe County Sheriff's Office to report a cooler full of lobsters and crab in the room registered to Marcelo. When officers arrived, they discovered 32 lobsters in the cooler.