Fisherman gives C-section to dead shark, frees 98 pups into the ocean
A man in Victoria, Australia, may have saved an entire brood of baby sharks after giving their deceased mother an impromptu C-section during a recent fishing trip.
Mathew Orlov, 46, was angling off the coast of Barwon Heads when he and his fishing buddy reeled in the 8-foot-8-inch female shark. But even before hauling it into the boat, Orlov said he could sense something was wrong, The Independent reported.
"I could feel through the line when she was being attacked. As soon as we pulled it up, I knew [it] was mauled by another shark," he said.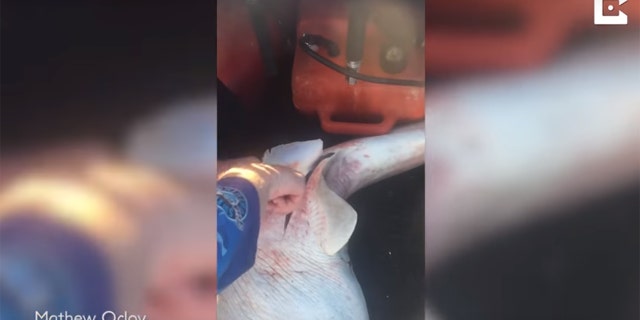 GRAPHIC PICS: EXPLORER'S FROSTBITTEN TOES TO BECOME GARNISH IN 'SOURTOE' COCKTAIL
Orlov's suspicions were confirmed upon bringing in the dead sevengill shark, which appeared to have suffered from numerous bite wounds.
That's not all Orlov observed — the shark's belly appeared to be moving, and that's when Orlov realized the animal was carrying pups.
"When I saw the belly moving, instinct kicked in. I've never done anything like this before, but I've been fishing long enough to know we needed to get the pups out as quickly as possible," said Orlov.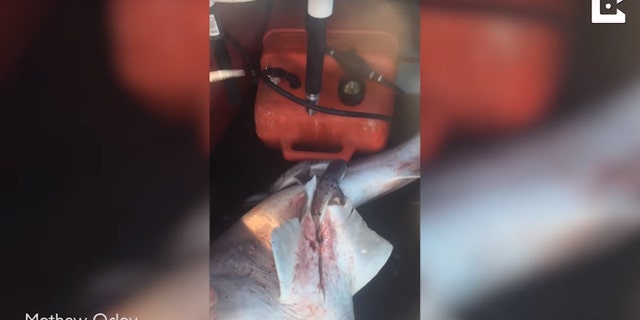 In footage from the fishing trip, tiny shark pups can be seen popping out of the dead shark as soon as Orlov begins slicing her open. Then, one by one, he releases each back into the ocean.
IDAHO FISHERMEN CATCH 'MONSTER' 8-FOOT STURGEON FROM KAYAKS
"It was a very overwhelming feeling when they started popping out, I got this adrenaline rush. I was just dumbfounded there was so many, we counted 98."
Orlov said it took nine minutes to free all 98 of the pups from the shark. He also commented that they looked "healthy" as they swam off, leading him to believe they likely survived.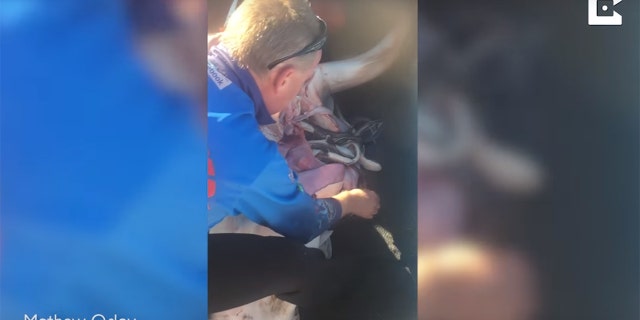 As for the dead shark, Orlov said he brought it home and ate it.
"As a fisherman, I catch fish to eat. The meat from this shark fed lots of my family members," he said.
FOLLOW US ON FACEBOOK FOR MORE FOX LIFESTYLE NEWS
Orlov's isn't the only unlikely find to turn up inside a fish in recent memory: In January, a fisherman in Costa Rica sliced open a dolphinfish to find garbage and various plastics in its stomach.