Fisherman catches 10-pound Atlantic salmon in Detroit River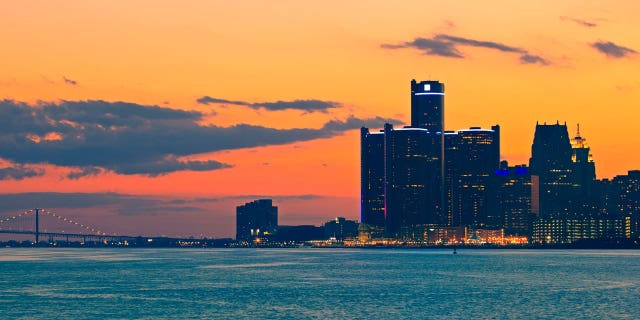 There's plenty to fish for in the Detroit River, including walleye, smallmouth bass, muskie and, unfortunately, the occasional body part.
But the one thing Brad Smyth wasn't expecting to catch in the Detroit River was an Atlantic salmon.
"My first Atlantic salmon!" the avid fisherman exclaimed on Facebook after catching the 9-pound, 10-ounce salmon about a mile south of the Ambassador Bridge last week.
He also shared a photo of himself triumphantly holding his "bonus fish" for the camera.
Atlantic salmon are, in fact, quite rare in the waters of the Detroit River. The Detroit Free Press reports that the closest Atlantic salmon fishery in Michigan is located more than 360 miles north on the St. Marys River, and estimates that Smyth's fish swam traveled around 85 miles south down through Lake St. Clair before he caught it.
SEE THE 50-POUND CARP CAUGHT IN THE MIDDLE OF LOS ANGELES
"I couldn't believe it was actually right here on the Detroit River," Smyth added to the Detroit Free Press.
The fact that this was Smyth's first Atlantic salmon speaks to the rarity of the catch, too. Smyth, a Michigan native, is the captain of Detroit Outdoor Adventures, a charter service that leads fishing expeditions along the Detroit River and Lake St. Clair. He's also been angling in the Detroit River, Lake Erie and Lake Huron since he was a child, so it's not like he hasn't had the opportunity to fish in the largely salmon-free waters.
Smyth also says he knew right away that he hadn't hooked a walleye, which is what he was jigging for.
"It started thrashing and I thought it was a snagged carp. All of a sudden it came to the surface. I actually netted the fish before I caught up slack in my line," he told the Detroit Free Press.
The site adds that the Michigan Department of Natural Resources is planning to stock more Atlantic salmon along the shores of Lake Huron in an effort to replicate the results of the St. Marys fishery.
FOLLOW US ON FACEBOOK FOR MORE FOX LIFESTYLE NEWS
However, stranger things than salmon have turned up in the Detroit River as of late.
Last week, the U.S Fish and Wildlife service caught a 120-pound sturgeon, an ancient species estimated to be nearly gone from the rivers and lakes near Detroit. In April, an unidentified decomposed body also washed up on the shore near Grosse Ile Township, just south of the city. And in 2012, two decapitated torsos were pulled from the water just hours before two fisherman found severed body parts.