Colorado firemen rescue deer from frozen lake: He was 'too tired to move'
Firefighters in Colorado don't just rescue folks from fires — they sometimes lend a helping hand to their freezing four-legged friends, too.
Earlier this week, a team from Lakewood's West Metro Fire Rescue came to the aid of a deer that had fallen through the ice at the city's Main Reservoir, ultimately helping guide him to safety by his antlers.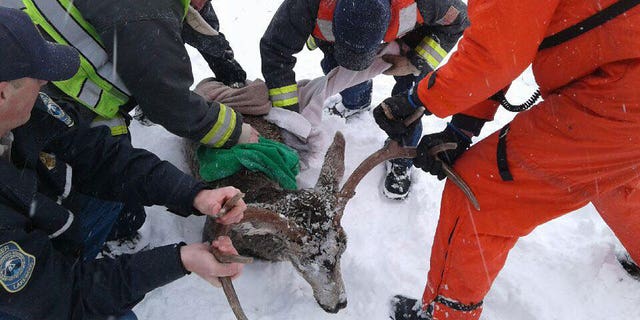 Lakewood's Animal Control department was first alerted to the deer by a passerby, who noticed the 4- to 5-year-old buck was stuck in the ice on Sunday. An officer with Animal Control says he believes a coyote may have chased him out there, the Denver Post reports.
SOUTHWEST AIRLINES FLIES 62 DOGS AND CATS OUT OF PUERTO RICO
West Metro Fire Rescue was soon called in to help extract the animal by breaking a path through the ice.
"He was actually standing in the water, but too tired to move," confirmed West Metro Fire on YouTube.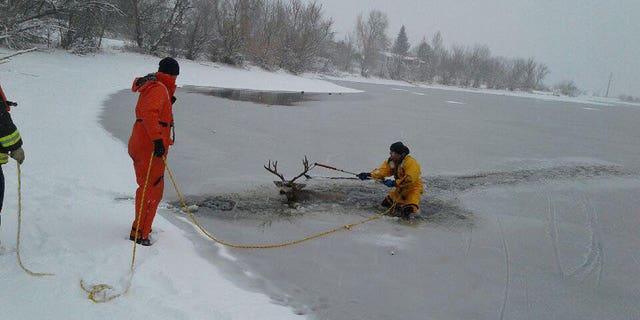 A member of the department's dive team was able to lasso the deer's antler, turn him around and guide him back to shore, where he was transferred to Lakewood Animal Control officials. The animal warmed up under blankets inside their van before he was released around three hours later.
LOST HUNTING DOG SAVED BY SURPRISED HUNTER
Dominick Von Pichl, who captured footage of West Metro Fire's rescue efforts during a stroll around the reservoir with his wife, told CBS Denver that he was duly impressed with how officials handled the situation.
"If the animal didn't get the help, he definitely would have passed [away] in the water there," said Von Pichl.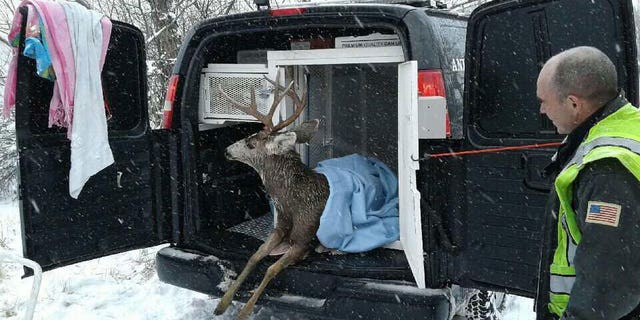 The incident also prompted West Metro Fire to issue a warning about the dangers of playing near iced-over lakes.
FOLLOW US ON FACEBOOK FOR MORE FOX LIFESTYLE NEWS
"If a deer can fall through, you can fall through," stated West Metro Fire spokeswoman Ronda Scholting.