81-year-old grandma yanks pythons from grill at request of concerned family
What do a couple of grown Australians do when they spot a snake slithering into their backyard grill?
Call grandma, of course.
On Sunday, Brisbane residents Jackson Wright and his father spotted a python making his home inside a grill they kept on the patio, but didn't dare open the cover. Instead, the pair called Wright's sister-in-law's grandmother, Faye Morgan, seeing as she once cleared their yard of a snake a few years back, The Washington Post reported.
PHOTOS: MAINE FISHERMAN CATCHES RARE, TRANSLUCENT 'GHOST LOBSTER'
Morgan – who also goes by "Granny" or "Ga," and lives on a farm located about 20 minutes away – arrived the next morning and went straight to business, with Wright's father holding the lid of a plastic bin nearby.
Wright, meanwhile, manned the camera.
In Wright's footage, Morgan, 81, can be seen carefully surveying the snake after opening the lid, before reaching in, snatching both ends of the snake and yanking it off the grates.
Morgan's eyes then linger on the grill for another moment, presumably after realizing that yet another python is sitting on the grill.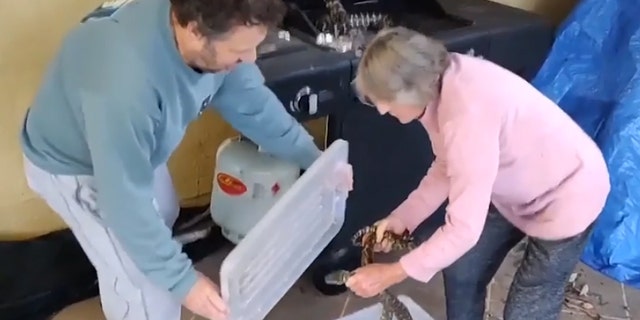 8 GRILLING MISTAKES EVERYONE MAKES — AND HOW TO AVOID THEM
"There's two of them!" Wright's father says.
"You've got to be kidding me," Morgan responds after placing the first in the plastic bin.
Without hesitation, Morgan grabs the second python and wrangles it into the plastic tub. The snakes were then relocated far away from the family's home.
"I'm not scared, I love it," Morgan told Australia's 7 News. "I say goodbye to them, and say, 'Hope you have a lovely life' when I relocate them."
"She was just saying: 'Oh yeah, I'm not scared of them. Everyone's got to be brave about it.' She was great," Wright added to the Post.
FOLLOW US ON FACEBOOK FOR MORE FOX LIFESTYLE NEWS
However, local professional snake wrangler Stuart McKenzie is warning residents not to attempt to remove snakes without proper training — and not only for their own safety, but for the snake's as well.
"If it's in a backyard, take your pets and kids away, and always maintain a safe distance from the snake," said McKenzie, per 7 News. He also advised homeowners to wait for the snake to move on its own, or contact a pest control professional for help.