13 elk rescued from freezing Wyoming water by Good Samaritans
At 7:30 in the morning on Dec. 29, Dusty Jones' commute to work in Jackson, Wyo. was diverted by an unusual wildlife emergency. Near the Alpine Feed Ground in Alpine, a herd of elk suddenly fell through the ice of the Palisades Reservoir, East Idaho News reports, and he ran to join three others at the scene.
The freezing water measured at least 8 feet deep below inches of ice, and Jones called a friend to bring a chainsaw, as a large group of passersby quickly gathered save the wapiti.
TUNDRA, NYC'S ONLY POLAR BEAR, EUTHANIZED DUE TO KIDNEY ISSUES
"Before you knew it, there were 30-40 people there," Jones told the outlet. "We began cutting a little path toward the shore so the animals could walk out but they were so cold they couldn't move. That's when we just started grabbing them and pulling them out."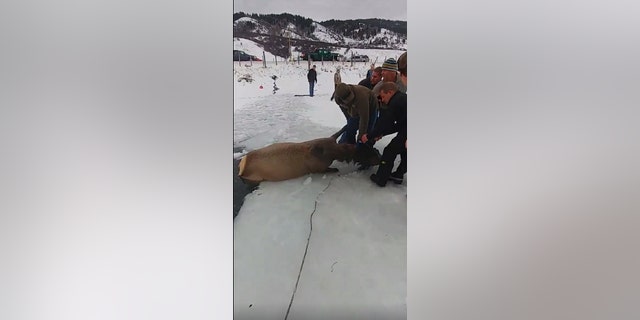 Temperatures hovered around 32 degrees as the group worked for over an hour with officials with the Wyoming Game & Fish Department and Lincoln County Sheriff's Office deputies using ropes, crowbars, tow straps, and other tools to save the animals, according to The News and Observer. Slowly but surely, each of the 13 elk was pulled to safety.
"Getting the last 2 elk out....what an amazing start to this day! All elk survived. Great to see the community come together and help these animals," Jones wrote on Facebook on Dec. 29, sharing a now-viral video of the rescue, which has since been viewed over 685,000 times and liked over 3,300 times.
TSA HOLDS MAN AFTER FINDING COUGAR CARCASS IN LUGGAGE
Officials believe that the elk were en route to the nearby feed ground and are thankful that the mission proved successful, as the Palisades Reservoir has proved fatal for wapiti in the past. Wyoming Game & Fish Biologist Gary Fralick told the Casper Star Tribune that in 2015, a herd of 30 elk similarly fell through the ice to their death.
"There's no way the Game and Fish Department alone could have made this work with the number of elk that were in the ice," he said. "I applaud the community support in this effort."
FOLLOW US ON FACEBOOK FOR MORE FOX LIFESTYLE NEWS
"We were all blessed to be part of this" Jones told Fox News.