12-foot alligator caught first day of hunting season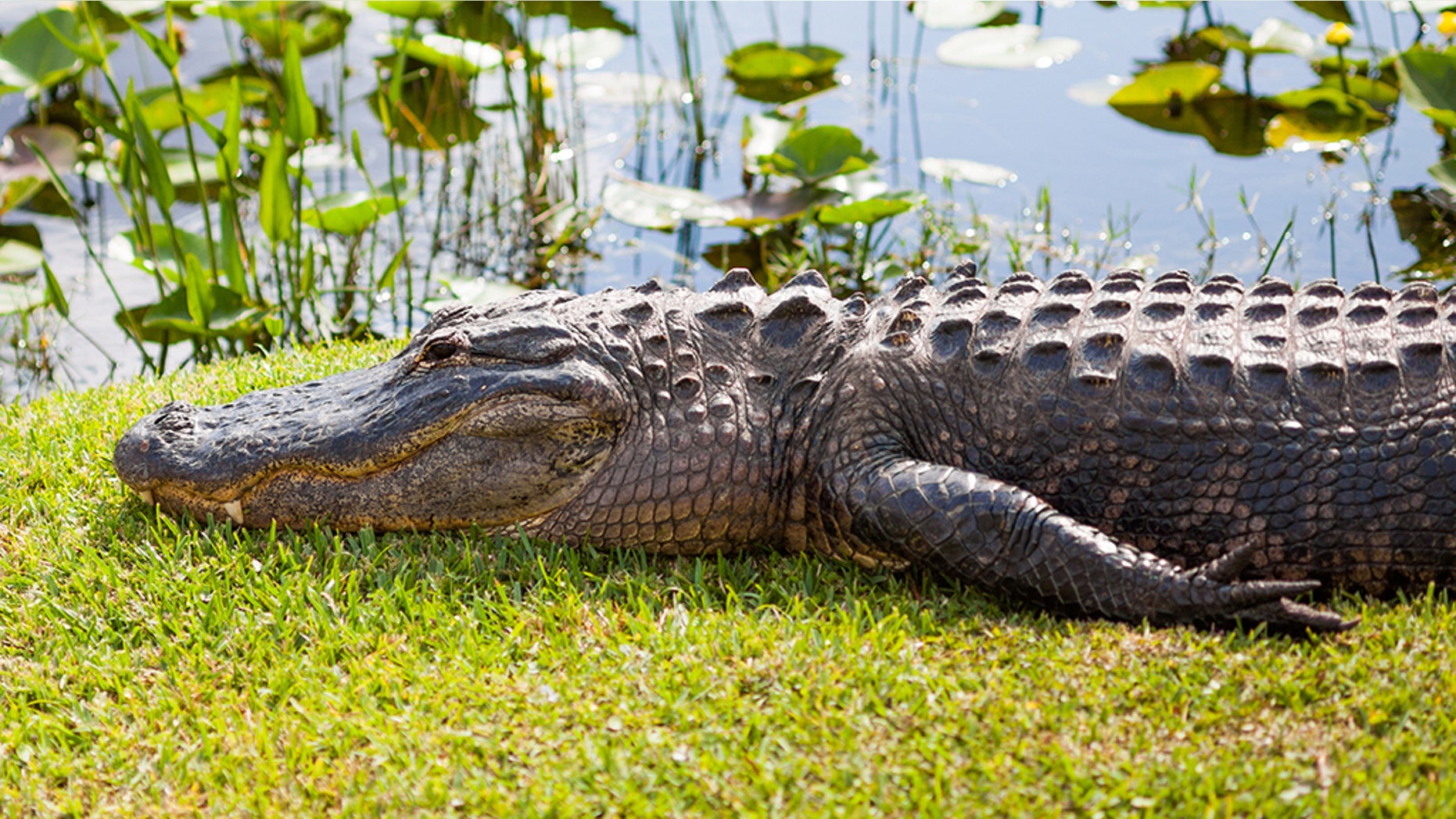 A Florida-based outfit pulled in a giant 12-foot, 360-pound alligator during the state's first day of alligator hunting.
Captain Tim Land of Land & Sea Charters in Pensacola, Fla., caught the giant gator with his crew in the Choctawhatchee Bay on Wednesday night – the day the season kicked off.
"Night one is the holy grail," Land said to the Pensacola News Journal. "If you get week one alligator tags, that's the one everybody wants. Because after this, they've been messed with for a week. So you get on a gator that hasn't been messed with and stressed and pushed, the more chances you have to be successful."
NORTH CAROLINA COUNTY ISSUES ALLIGATOR HUNTING LICENSES FOR FIRST TIME IN 45 YEARS
Originally, Land said he was trying to nab a small alligator.
"We were actually messing with a smaller alligator when we looked up to see this one out in the middle of the river," Land said. "Basically, I snatched the alligator with a Cobia rod. Snatched him, fought him for a little while, and then we threw the weighted treble hook like Willie throws it on 'Swamp People,' so we call it the Willie hook."
Land and his crew brought the larger gator onto their boat where they shot it with a crossbow, the publication reported.
Land said the alligator is at a local taxidermist where it will be full-body mounted. But Land's not done for the season, which runs until Nov 1, he told the New Journal.
"I mean, he probably has 10-pound cheeks. That's 20 pounds of meat just in the cheeks."
"The state issues these tags for people to fill them. They don't want you to get these tags and not fill them," Land said. "That's why the minimum of an alligator with these tags is so small, 36 inches. I mean, that's a 3-foot alligator. So they want you to fill these tags with anything bigger. So we actually try to harvest gators between that 7-9 foot range. And if we get an opportunity to harvest a bigger alligator, we'll harvest a bigger alligator."
FOLLOW US ON FACEBOOK FOR MORE FOX LIFESTYLE NEWS
Even if he doesn't catch another giant, Land and his team at least seem to be set for a while on gator meat.
"The whole alligator was harvested. And that's the misconception, there was 50 people at the (Day Break Marina) yesterday watching us clean it like, 'That's all the meat that's on it, just the tail?'" Land said. "Basically, the entire gator has meat on it, just like every animal. I mean, he probably has 10-pound cheeks. That's 20 pounds of meat just in the cheeks."
And the recipes from that 12-footer are endless.
"You can do grilled alligator, you can fry it, you can make gumbo out of it," he told the News Journal. "My favorite is in a gumbo. It's slow and low, so the meat's more tender."