Yale dean who called people 'white trash' on Yelp placed on leave
A dean at Yale University who came under fire for posting Yelp reviews that called people "white trash" was placed on leave this week.
June Chu, the dean of Yale's residential Pierson College, was an outspoken champion of cultural sensitivity at the Ivy League school-- but it was recently discovered that she also wrote stinging criticisms on the review site Yelp that many found elitist and offensive.
In one review, she cited a restaurant as perfect for anyone who was "white trash."
"This establishment is definitely not authentic by any stretch of any imagination and perfect for those low class folks who believe this is a real night out," Chu wrote.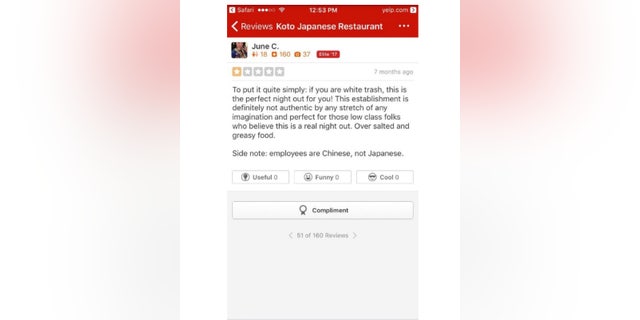 In another post, she said she was surprised that a New Haven movie theater had a lack of "sketchy crowds."
YALE DEAN FORCED TO APOLOGIZE FOR 'INSENSITIVE' YELP RESTAURANT REVIEWS
Chu apologized for the reviews after screengrabs of her posts were published by Yale Daily News, the college newspaper. On Thursday, Pierson College Head Stephen Davis, who initially stuck by the dean, said Chu had been placed on leave after the college discovered numerous "reprehensible posts" that were part of a widespread pattern. He said her posts made him question her ability to lead the college.
"Let me be clear," he wrote. "No one, especially those in trusted positions of educating young people, should denigrate or stereotype others, and that extends to any form of discrimination based on class, race, religion, age, disability, gender identity, or sexual orientation."
Chu wrote to her students on Saturday admitting she made poor choices.
YELP'S HIGHEST-RATED RESTUARANT WAS ONCE THIS LITTLE SHACK IN HAWAII
"There are no two ways about it," she wrote. "Not only were they insensitive in matters related to class and race; they demean the values to which I hold myself and which I offer as a member of this community."
Chu was appointed Pierson's dean in May 2016 after serving as an assistant dean of undergraduate students at Dartmouth College and before that as director of the Pan Asian American Community House at the University of Pennsylvania.
In an article written for Inside Higher Ed, Chu promoted cultural sensitivity and said students fail when college advisors fail to take those issues into account.
"If we continually advise without understanding diverse students' practical concerns, while appreciating their distinct cultural value systems, we inadvertently project the idea that independence is the norm and interdependence is an erroneous way of thinking," she wrote.
FOLLOW US ON FACEBOOK FOR MORE FOX LIFESTYLE NEWS
Davis said Chu will not participate in any activities related to the university's May 22 commencement or work with students through the end of this academic year.
He did not directly address her long-term future with the school.
But he added that while he had envisioned a future before Saturday that included healing and reconciliation over Chu's remarks, "Today I am grieving because I no longer can envision such a way forward."
The Associated Press contributed to this report.