Worried about backyard barbecue disasters? There's a hotline for that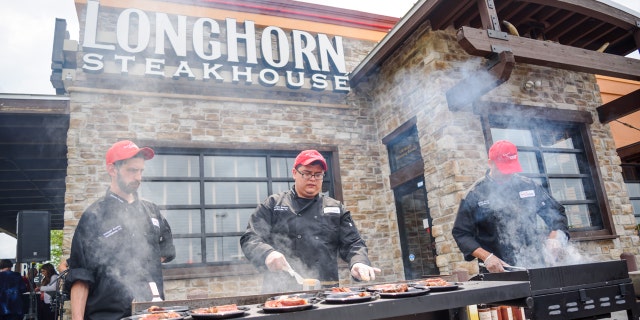 Memorial Day is just around the corner and that means we're about to enter prime grilling season.
You may have already cleaned off your grill, picked up some charcoal and even called the butcher for some prime picks. But even if you're a backyard barbecue whiz, you're probably well-aware that cookouts don't always go as planned.
Have no fear grillers, LongHorn Steakhouse's Grill Us Hotline is back this summer for its fifth year. LongHorn says it's helped hundreds of grillers over the years. Starting this weekend, callers in need can simply dial 1-855-LH-GRILL to be connected with a barbecue expert to walk through any potential dining disasters.
Can't get your gas grill to light? Need to cook a bunch of steaks at once? Is it better to keep the grill opened or closed when cooking burgers?
BARBECUE SECRETS: 5 SIGNS YOU'RE AT A BAD BARBECUE JOINT
We spoke with Jens Dahlmann, LongHorn's Corporate Executive Chef and Vice President of Culinary Development; Billy Banks, Managing Partner and Grill Master at LongHorn from Houston and Sara Plank, Managing Partner and Grill Master from Skokie, Ill. They each dished on some the most common grilling queries they've received over the years.
Fox News: Why did LongHorn decide to start the hotline?
Chef Jens Dahlmann: Summer is the perfect time of year for cookouts with family and friends, but we know that grilling can be intimidating. That's why we decided to share our knowledge and passion with our friends and guests. We're the grilling and steak experts, and for the fifth year in a row, we're a phone call away.
Sara Plank: This is my fifth time manning the Hotline, and I look forward to it every year. It's such a great feeling to not only engage with guests in our restaurants, but to be there for them when they need help at home. I love sharing my passion for grilling with our guests and callers!
Fox News: What are some of the most common grilling mistakes and how do you fix them?
Chef Jens Dahlmann: Some of the most common mistakes I've seen include buying low-quality meats or frozen steaks, under-seasoning the meat and overcooking or undercooking.
Billy Banks: I've gotten several questions about selecting the right kind of steak. I always recommend my favorite, ribeye! Another common question is how to season what you're grilling. At LongHorn, we use a proprietary blend. At home, you can achieve similar flavors with cracked pepper, sea salt, granulated onion powder and granulated garlic powder.
Sara Plank, Skokie: Seasoning and marinade questions are common. I like to ask the caller what they typically use. If they typically use a dry rub, I encourage them to do a wet marinade. If they usually use wet, I encourage them to do a dry rub. I tell callers to experiment and have fun with it! Go through your spice rack, mix some together and start tasting!
FOLLOW US ON FACEBOOK FOR MORE FOX LIFESTYLE NEWS
Fox News: Has anyone ever called in with a seriously unusual inquiry?
Chef Jens Dahlmann: One of the most memorable questions I received was from a caller who just purchased a grill and needed help assembling it quickly!
Sara Plank: I'll never forget the guest who called asking for advice grilling a 40-ounce Porterhouse. I talked him through seasoning, charcoal placement, and even how to make a foil dome for the steak. For a steak that large, it's all about cooking low and slow.
LongHorn's Grill Us Hotline will be open from 11 a.m. to 5 p.m. ET on the following dates:
-- Sunday, May 28 – Memorial Day Weekend
--Sunday, July 2 – Fourth of July holiday
--Sunday, September 3 – Labor Day Weekend
Looking for more ways to connect? Barbecue novices and experts can chat live with LongHorn for advice from 11 a.m. to 10 p.m. ET, seven days a week, on Facebook, Twitter and Instagram. This summer, LongHorn is also debuting a new Grill Hero Facebook Messenger. You can also text "GRILL" to 55702 for the steakhouse's top tips and recipes for home cooks.