Woman who dipped chicken finger in Coke at US Open explains her odd habit: 'It definitely sounds gross'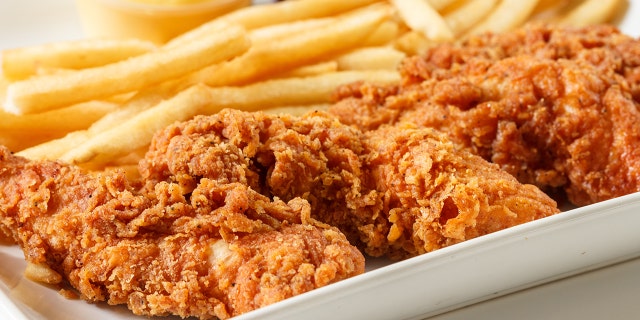 A woman who was caught dipping her chicken finger in a soda in a now-viral video taken at the U.S. Open is explaining where she got the bizarre idea.
Alexa Greenfield sparked social media outrage, and lots of confusion, when she was captured on video Monday dunking a chicken finger into a cup of soda.
Yes, you read that right.
MCDONALD'S CUSTOMERS CREATE FAKE POSTER, HANG IT IN RESTAURANT TO PROMOTE RACIAL DIVERSITY
Greenfield, a 26-year-old business owner, told Fox News on Tuesday that she's been dipping chicken fingers in regular Coca-Cola since she "can remember."
"My dad started me with [dipping chicken fingers in soda] I think to 'cool' it down, but I just loved the taste and kept going. Once I got older I gave it up for a while assuming it would be way too weird to bring it into adulthood. But one day I said 'eff it,' and re-started [the dip choice]," Greenfield said.
The video of what some are calling a "heinous crime" was posted by several people on Twitter, including Barstool Sports and ESPN. Greenfield is seen sitting at a table with her two nephews and dipping the breaded piece of chicken into a cup of ice cold soda.
KUWAIT FISH MARKET SHUT DOWN FOR PUTTING GOOGLY EYES ON LESS-THAN-FRESH FISH: REPORT
"The funny part is that this story starts with me telling my nephews, 'Listen, I am about to do something really weird. It is a huge secret and you can't tell anybody.'" Greenfield recalled. "'Don't tell your parents and don't tell any adults because it's pretty embarrassing.'
"Then I got caught by some cameraman and now I'm viral," she said.
Although dipping sauce has been a widely debated topic, the majority of social media users seem to agree that soda is definitely not a dip choice they can get behind.
"Why are we dipping chicken fingers into soda? Why is this happening? Someone call the cops right now!" Barstool Sports writer Eric Hubbs tweeted.
Many followers seemed to agree Greenfield's action was a crime, with one follower replying that it was a "felony" and the woman deserved "5-10 years minimum." Others shared their shock and disapproval through memes.
"I'm sorry, did they just show a fan at the @usopen dipping chicken fingers in their soda? I'm shook," one person tweeted.
One person said, "Woah watching #USOpen2018 and fan just dipped her chicken finger in soda. Please tell me this is not a thing."
"Who does this???" several other people questioned.
Greenfield said she found out about the viral clip when her friend texted her saying, "Uh I just saw you dip a chicken finger into soda on ESPN."
The video has been shared and viewed tens of thousands of times on social media since it was posted.
Despite the harsh comments, Greenfield told Fox News she thinks the "responses are the funniest things I've ever seen in my life."
FOLLOW US ON FACEBOOK FOR MORE FOX LIFESTYLE NEWS
"I have been in hysterical laughter for 24 hours. I do think it is gross and it definitely sounds gross so I totally get where they are coming from," she said. "I almost judge the people that are defending me more so.
"The best is the people that know me because they have had to deal with my weird eating habits forever and they are like, 'Haha, now the world knows, you freak!'"