Woman caught on camera allegedly stealing from restaurant tip jar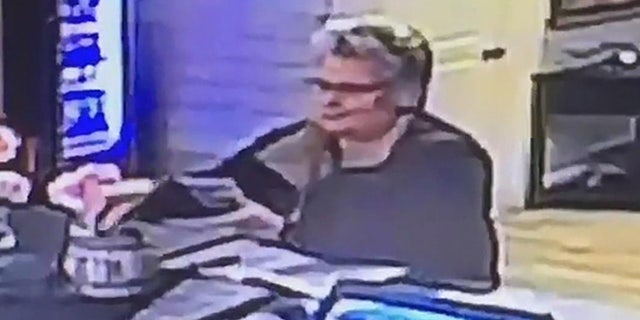 Police are looking to social media to help them catch a gray-haired bandit accused of stealing from a Lobster Trap tip jar in Bourne, MA.
The older woman was standing near the jar at the takeout counter on Monday evening, worker Olivia Slayton told WBZ.
"I turned around and I saw that her hand was near the top of the tip jar, but I wasn't sure so I didn't want to accuse her of anything," Slayton said to WBZ.
The woman had ordered fish and chips and was waiting while restaurant workers buzzed around her.
"I didn't even think twice as I was walking by," employee Lainie Hatch said.
SCANTILY CLAD WOMAN WHO STOLE MONEY FROM UBER DRIVER'S TIP JAR SAYS SHE'S BEING HARASSED
Employees remembered the woman was rude and complained about the service during her visit, but did not notice that money was missing from the jar until later. When they did, they went to the surveillance tape for answers.
In the surveillance footage, the woman is seen dipping her hand into the jar and pulling out cash at least three times.
"It looks like she went in three times to grab some cash and maybe look for bigger bills, we're not sure," server Alaina Hatch said to FOX 25 Boston.
"We make obviously a lower wage, it's not a minimum wage. Most of the money we make comes from tips and as hard as we work it's really discouraging that someone would take that cash from us," Hatch added.
Employees estimate this time around, the woman got away with $20 from the jar.
FOLLOW US ON FACEBOOK FOR MORE FOX LIFESTYLE NEWS
The Bourne Police Department is investigating the incident and posted the surveillance video on Facebook – which has now gone viral – for help identifying the accused thief.
The restaurant owner has stated he doesn't want to press charges – he just wants the woman to come back and apologize to the workers for stealing the money.
"It's basically the principle of it. These are hard-working people that deserve their tips. We would just like to identify this woman and hold her accountable," Police Sgt. Mike Mulligan said to FOX 25 Boston.
Correction: A previous version of this article erroneously mentioned Red Lobster as the restaurant instead of the Lobster Trap.