Wichita restaurant burning being investigated as a hate crime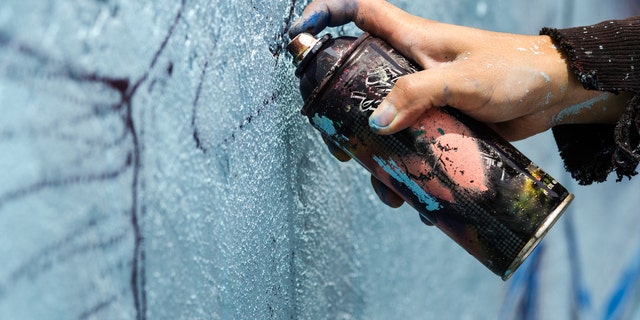 A restaurant in Wichita, KS, was engulfed in flames in a two-alarm fire in the early hours of Wednesday morning.
Owners Ranya Taha and Bashar Mahanweh were startled to learn that their restaurant, serving authentic Jordanian food, had been burned to the ground. But, even more disconcerting is that it is now being investigated as a potential hate crime.
"We were first asked if we had anyone who would want to hurt our business, and we said no," Taha told The Wichita Eagle. "There was a small incident on a window awhile ago with graffiti, but we just covered it up and moved on. It was three months ago, and we didn't think bad of it."
ARIZONA RESTAURANT CLOSES FOLLOWING BACKLASH FROM ITS PRO-TRUMP FACEBOOK POST
Now, after the fire, the couple has discovered more graffiti on the outside wall of their restaurant – a large spray painted "go back."
"It was really upsetting," Taha said. "It was two words that have a lot of hate in it."
The graffiti was not there when the couple left the restaurant the night before the fire, they say.
Taha said "It looks like a hate crime, but we can't tell until the investigation is done."
Fire investigators said the cause was not immediately known, but flames were found coming from near the HVAC units.
A spokesman for the ATF told the Wichita Eagle that investigators are currently trying to determine how the fire started. Once they have the cause, it can be determined whether it was a hate crime.
"The FBI is aware of the fire, if the investigation would turn into a hate crime investigation, then they would become more involved," ATF's John Hamm said.
The couple, who opened Petra in April, is devastated by their loss.
"We rebuilt the building for six months to clean it and rebuild and bring stuff from Turkey and Jordan to make it really be like Jordan when you enter," Taha said. "The music and seating and food, the atmosphere and the decorations was like entering a different country.
"It took a long time to put together," she continued. "Unfortunately, that is gone."

FOLLOW US ON FACEBOOK FOR MORE FOX LIFESTYLE NEWS
The two have "lived in Wichita a long time," and they have "always experienced love and support" from the community, Taha said.
"We're okay," she said. "We are strong, we have to be strong. We have a family who looks up to us. It is going to make us stronger."
Though they are unsure if they will rebuild their restaurant in the future.
As of Thursday, Jill Bronaugh, spokeswoman for the Wichita fire marshal said, "Investigators from the Office of the State Fire Marshal are still on the scene assisting with this investigation and the cause is still under investigation."