Why Not Blow Your Jackpot on a $5K Burger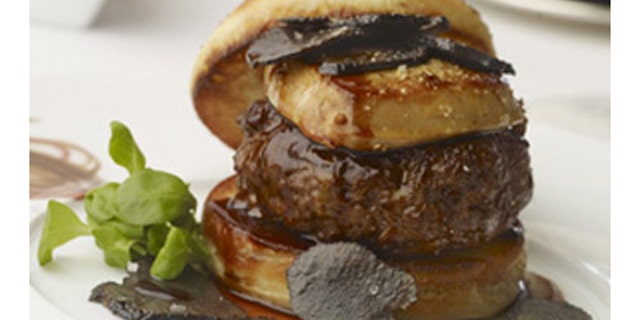 The Mandalay Bay Hotel and Casino in Las Vegas -one of Sin City's biggest -- is estimating anywhere from 40,000 to 45,000 visitors per day for New Year's Eve weekend.
So if you play numbers like that, someone is likely to win the jackpot, right? For the winners, there are plenty of places in Vegas where you could blow your new found bucks.
Here is one idea that combines the best of comfort food with pure decadence.
"If you hit the jackpot in Las Vegas, hands down, you have to pass by Fleur De Lys and you have to try the ultimate experience when it comes to a burger," said world renowned chef Hubert Keller, referring to a rather expensive burger combo at his restaurant Mandalay Bay Restaurant Fleur.
"You cannot leave Las Vegas without trying the Fleurburger 5000 right here in the Mandalay Bay."
If you are wondering what the 5000 in this combo represents --it is 5,000 bucks. As in, the meal will cost you $5,000. Yes, you read that right.
A far cry from the $5 cheeseburgers most folks are accustomed to. But before you jump to conclusions about the insane pricing of the meal, let's check out what makes the meal so darn expensive.
The burger patty is made up of Kobe beef, an expensive cut of beef that can cost hundreds of dollars. The burger is topped off with another pair of delicacies: a seared slice of duck foie gras and truffles from southwest France, which Keller priced at $1,500 a pound.
Throw in the expensive bottle of Chateau Petrus, a fine wine previously sold at the restaurant for $5,300, and you actually have a deal. Yes, and you read that right, too -- a deal --only if you have $5,000 to spend.
"I brought down the price (of the Chateau Petrus) to $5,000, so the burger is free," said Keller. That's one clever Keller.
And the sweetness of the sautéed truffles drizzled over the sea salt-seasoned Kobe beef patty and duck foie gras, all on a toasted brioche bun, make for a tasty combination.
"It's absolutely the ultimate experience when it comes to a burger," said Keller.
We'll just have to wait and see if those jackpot winners head to Fleur to experience it.