Why it's time to change your olive oil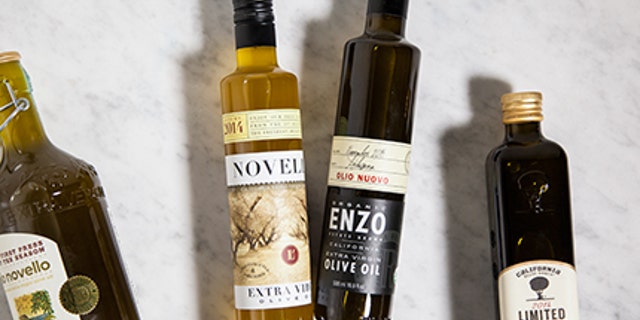 Are you running around in last season's olive oil? It could mean that your food doesn't taste as good as it should. While we might not think of pantry staples like olive oil as seasonal, that's exactly what it is: Olives are usually harvested in early- to mid-fall, and bottled a few weeks after that. Which means that if you're a fan of spanking-fresh olive oil, now is exactly the right time to invest in a new bottle.
Check out more about why right now is the perfect time to change your oil, plus four spanking-new bottles (aka "olio nuovo") to score this season for your own kitchen. You might just want to pick up a few to share as holiday gifts for your favorite olive-oil-slinging home cooks, too.
Your oil won't just taste fresh--it'll taste amazing. The sooner you buy olive oil after it's been pressed, the fresher that oil will taste--not just delicious, but filled with all the distinctive flavors of those just-picked olives.
If you love peppery olive oil, you'll be happy. Many new-crop olive oils also have a grassy, peppery note that fades after a few months in the bottle, so if you're a fan of that zingy taste, you'll want to score some of that stuff.
Your bottle will live longer. Buying the freshest olive oil is like rooting through the stack of eggs in the supermarket to find the one with the latest expiration date. You'll be maximizing the shelf life of your bottle, since the sooner you buy it after pressing, the longer you'll be able to enjoy it.
We're big fans of these four olive oils, all hot off the presses for 2014:
California Olive Ranch, 2014 Limited Reserve First Cold Press. A delicate oil with hints of orange and almond, and a peppery finish.
Lucero Novello California Extra-Virgin Olive Oil Autumn 2014. This cloudy, unfiltered olive oil has amazing creaminess, along with a mix of grassiness and fruit from a combination of green and ripe black olives.
Check out more olive oil recommendations to stock your shelves.
More from epicurious
25 Amazing Turkeys for A Family Feast
How to Make Creamiest, Dreamiest, Cheesiest Mac and Cheese Ever
The Most Delicious Roast Chicken Dinner You'll Make This Season
Stress-Free, Super-Tasty Holiday Pies That Will Impress Anyone