Who the heck is Thug Kitchen?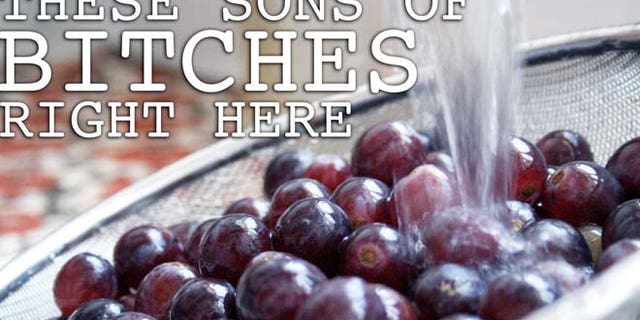 If Martha Stewart, Dr. Dre and Tony Soprano wrote a blog it might look a lot like Thug Kitchen.
The site isn't for the straight-laced or easily-offended. Its f-bomb and foodstuff-laden combos conjure up images of Tony brooding in the Escalade while Carmela whips up ziti at home. It's the food blog that would turn Miss Manner's blood to Ragù.
Potty-mouth directions—"keep f--king mixing until it is all uniform,"—and un-Martha projects like illuminating "bomb-ass jack o' lanterns" with kerosene-soaked rolls of toilet paper are a stark contrast to the rest of the content. Thug Kitchen's clear, innovative recipes, enticing photography and insistence on fresh, local ingredients are oh-so-Martha.
It's hard to image that many would heed the advice of a tough, gangster-talking vegan food blog whose motto is: "Eat Like You Give A F—k."
But thousands clearly are. Launched last August, Thug Kitchen already has more than 132,000 Facebook likes and some 17,000 Twitter followers –and has a cult following among true foodies.
Upscale Saveur magazine just voted Thug Kitchen number its one food blog. When Thug learned he was nominated he encouraged supporters to vote saying, "Honestly, if we can just get 'f--k' up anywhere on their site I will consider this a huge win." He won big.
Even People's Magazine's "Most Beautiful Woman" and Star Magazine's "Most Hated Celebrity" is a fan. Gywneth Paltrow recently gave Thug Kitchen a shout-out on the "Rachael Ray Show".
The writer or writers (its believed to be more like a crew) come from Los Angeles, but who they are exactly remains a mystery. Though we tried to who find out, Thug didn't respond to our emails.
Phil Deffina, executive chef of Rumson, New Jersey's David Burke Fromagerie, likes the recipes, enjoys the visuals, and says the information's solid. But the language doesn't float his boat. "This guy," says Deffina, "is the Andrew Dice Clay of vegan food blogs."
Food-writing is sometimes justly criticized for a people-like-us elitism, directed towards those with the time and the bank to obsess. Thug describes food-writing to dailydot.com as something that "makes eating healthy seem like an expensive hobby or stupid-ass fad." He's about "some real talk about some real f--king food."
Thug Kitchen's in-your-face idioms apply exclusively to food-without-a-face recipes (no meat or fish). It excludes ingredients produced by any animal that even has a face (i.e. eggs, dairy, honey. Yes, bees have faces.) Its clear, concise vegan recipes do a good job of coaxing flavor out of plant-based ingredients with bonus health tips or advice.
For example: A tribute to grape tomatoes begins with the entirely relatable, "You ever get worried about d-ck cancer? Me too, son. I need my sh-t intact." He advises eating "the f--k outta these little homies" to "get yo' lycopene on."
Thug "leaves the candy-coating and delightful mini-scone anecdotes to those who do it best," writes Jess Kapadia of Food Republic, a website devoted to helping men eat and drink well. In response to Fox Foodie emails, she said the profanity can be "remarkably helpful" in lowering people's defenses about their own cooking skills and general food knowledge, in addition to being funny. "Nothing they're posting needs defending, especially not by us," she adds.
"It seems to be not serious, but it actually is," says John Mooney, chef of Bell, Book and Candle, who grows his restaurant's vegetables in a scientifically-engineered vertical roof-top garden in New York City's Greenwich Village. Though he's an omnivore, Mooney insists there's a need to look at vegan food in a new way. When asked by Fox Foodies if he'd recommend Thug Kitchen, Mooney deadpans, "F--k, yeah. I'd recommend that sh-t."
The blog's vision and passion have won over Chef Chris Cheung of Cherrywood Kitchen in New York City. "He's really into what he's doing and he clearly eats what he's cooking," says the Nobu and Jean-Georges-trained chef. But first, he says, "you have to get past the language."
At the end of the day, comments like "Drink some goddamn (sic) water. It's f--king free," "we all know your punk-ass doesn't eat enough greens" and "Hamburger Helper ain't f--king helping" can make these nagging "it's-for-your-own-good" messages more palatable.
Does profanity make food-writing more egalitarian? Given the site's exploding popularity the answer is a resounding, "S--t, yeah." It could potentially shatter veganism's Birkenstock-wearing, razor-free, tie-dyed stereotypes with its frontal-assault approach. Take, for example, Thug's Earth Day tribute.
Over a nicely-shot photo of a little green shoot emerging from a flower pot Thug writes: "So I planted this shit. Happy f--king Earth Day."