Which chain has the cheapest wings?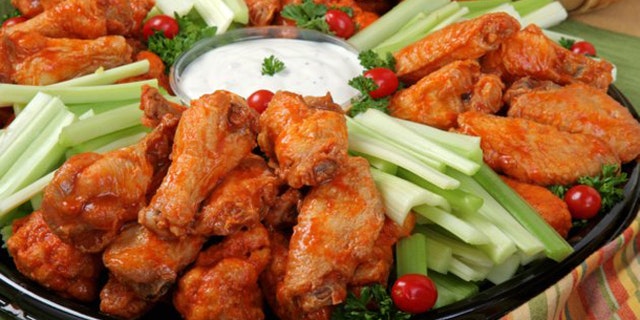 With temperatures dropping and the Super Bowl right around the corner, carnivores across the country are turning their attention to one of the most indulgent, fan-friendly, and popular snack foods in the country: wings, and Buffalo wings in particular.
As recently as 50 years ago, chicken wings were commonly used only in stock preparation, or were simply thrown away. They're bony, fatty, and otherwise unimpressive when compared to the other, more useful chicken parts. But as the story goes, one day in the 1960s, the owners of Buffalo, N.Y.'s Anchor Bar decided to deep-fry some wings, then douse them in a combination of hot sauce and butter, and a national institution was born.
Their all-American status, ease of preparation, and the fact that they happen to go along very nicely with beer led to a massive surge in wings' popularity, and now you'd be hard pressed to find a bar that doesn't serve the snack (even those without a food menu sometimes ply their customers with free wings).
One other type of establishment where wings are often on the menu? Chain restaurants.
With the unofficial National Wing Day (aka the Super Bowl) coming up, bellies across the country are gearing up to devour mountains of flats and drumettes (the technical name of the two wing sections). And we all know that once the craving for wings sets in, it sticks around until that craving is satisfied.
We here at The Daily Meal decided to help you keep some cash in your wallet the next time the urge strikes, and have taken it upon ourselves to do some investigation into which national chains will serve you the most wings for the least amount of money.
We reached some interesting conclusions: for one, thanks to competition, most chains' wings are reasonably priced, and none overcharge outrageously (save for one). While some, like Cheesecake Factory, sell wings according to weight, most sell by quantity. And while most serve a set number per order, others, like Buffalo Wild Wings and KFC, allow you to add onto your order in intervals of five or six. Several chains sell boneless wings, but for our survey we decided to stick with the authentic bone-in variety, and calculated the price-per-wing based on the standard order of nine, 10, or 12, depending on the chain.
So read on, wing lovers, to discover which chain will provide the most wing for your buck!
Hard Rock Cafe
This chain, with outposts all over the world (and a rabid following of T-shirt collectors), sells, by far, the most expensive chain wings in the country. Orders generally arrive with either five or six wings and sell for $11.50, making each wing (if you only get five in your order) a whopping $2.30.
Planet Hollywood
The two flashiest chains took the top two spots on our list. At Planet Hollywood, whose openings have often been graced by movie stars (or something close to it), eight wings come to an order, which costs $10.99. That equals out to $1.37 per wing.
Ruby Tuesday
Coming in eighth place is Ruby Tuesday, a chain best known for its burger varieties. An order of nine wings sells for $10.99, with a per-wing price of $1.22.
Cheesecake Factory
Orders of wings at The Cheesecake Factory, which was founded in Beverly Hills, Calif. in 1978 and currently has more than 150 locations nationwide, are measured by weight. Each order contains 9 ounces of wings, which most often averages out to nine wings. With orders selling for $10.95, that means each wing sells for $1.22. The same per-wing price as Ruby Tuesday, but a lower price overall.
Applebee's
With its "neighborhood" appeal and everyman approach, Applebee's falls squarely in the middle when it comes to wing prices (and food prices overall). An order of 10 wings sells for $10.99, which comes to $1.10 per wing. If you order 20, however, the price falls to $16.49, or a very reasonable $0.82 per wing.
See the complete rankings of the chains with the cheapest wings here
More from The Daily Meal
Super Bowl XLVII Official Menu

Fast Food Menus: A Look Back

5 Craziest McDonald's Pies

America's 50 Most Powerful People in Food for 2013