What the frork? McDonald's customers confused about new utensil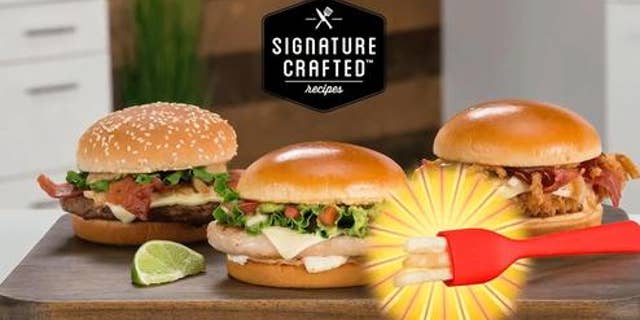 NEWYou can now listen to Fox News articles!
Do people actually want McDonald's new frork?
Fox News asked customers at a McDonald's in South Carolina, and the results were, well … mixed.
Mcdonald's originally unveiled the frork (a fry-fork) on May 1 in a silly video parody featuring ubiquitous pitchman Anthony Sullivan. The aim of the ad, in actuality, was to announce McDonald's new line of Signature Crafted Recipes sandwiches. But, since each new sandwich is being advertized as extremely saucy and juicy, the company touted the benefits of using a lightweight frork — which can hold around three to four fries at a time — to sop up all the extra sauce without getting their hands greasy.
A Mcdonald's press release claims the utensil is "utilitarian and desperately innovative."
MCDONALD'S MANAGER ARRESTED FOR $3,800 BIG MAC REFUND SCAM
In order to get the frork, however, customers have to purchase one of the restaurant's Signature Crafted Recipes sandwiches, which include a Pico Guacamole grilled chicken sandwich, a Sweet BBQ Bacon fried chicken sandwich, and a Maple Bacon Dijon burger.
But even though the frork was clearly just a joke from the start — the company's infomercial praised the frork's ability to work "in the dark," and even showed Sullivan picking up the fries with his bare hands to insert into the frork — the item was, in fact, a real utensil that McDonald's was offering on May 5.
Customers at the Mcdonald's in Columbia, S.C., told Fox News they didn't get a chance to onbtain a frork. Others stated they initially thought it came with all the meals for free.
And the one customer who was familiar with the frork said she had only read about it on Facebook, but still preferred eating her fries with her hands because she liked licking the salt off her fingers afterwards.
Furthermore, an employee who spoke with Fox News mentioned that customers had not purchased the frork all day, probably because it only came with the specialty burgers which costs more than the regular burgers.
FOLLOW US ON FACEBOOK FOR MORE FOX LIFESTYLE NEWS
With all the confusion surrounding the frork, Fox News reached out to McDonald's to confirm whether or not the company was planning to re-release the utensil, although the company has not yet responded. But seeing as it was advertised only being available for a limited-time only, it's likely the frork was just another blink-and-you'll-miss-it novelty item, much like the bottled Big Mac sauce McDonald's offered back in January.
Nevertheless, McDonald's will be offering a free medium fry and soft drink with the purchase of a Signature Crafted Recipes sandwich until May 8. And leftover supplies of frorks — of which there might be many — are not neccessarily included.