Wendy's takes Twitter jab at McDonald's over Super Bowl outage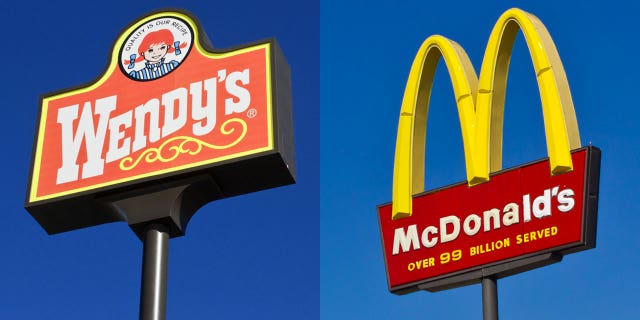 While most of us were watching the Super Bowl on Sunday night, Wendy's was busy launching a two-pronged attack on McDonald's.
Not content to simply troll McDonald's in its actual Super Bowl advertising campaign, Wendy's also took to Twitter to accuse the burger chain of freezing not only beef, but the Super Bowl telecast itself.
5 SURPRISING SUPER BOWL FACTS TO DISCUSS AROUND THE WATER COOLER
During the second quarter, NBC had broadcast several seconds of dead air after cutting to a commercial break, and later explained that a "brief equipment failure" was to blame.
"We had a brief equipment failure that we quickly resolved. No game action or commercial time were missed," explained an NBC Sports spokesman, via Twitter.
But before NBC Sports could explain away the snafu, the official Twitter account of Wendy's responded to a recent McDonald's post with a taunting message: "Y'all freeze the live feed?"
Wendy's has long touted that it uses "fresh, never-frozen beef" in its own burgers — most notably in last year's Super Bowl LI commercial, which showed an employee for the "othr guyz" defrosting burger patties with a hair dryer. But on Sunday, Wendy's decided to take direct aim at McDonald's in its national TV spot during the Super Bowl, which compares the "flash frozen" beef at McDonald's to the iceberg that sank the Titanic.
WHOLE FOODS EMPLOYEES 'CRYING' OVER STRESSFUL NEW WORKPLACE ENVIRONMENT
On Twitter, however, Wendy's has never been shy about voicing its opinion of McDonald's. In March 2017, for example, after McDonald's announced that its Quarter Pounders would be made with fresh beef by mid-2018, Wendy's pounced on the opportunity to respond with a cheeky remark.
Wendy's has also slammed McDonald's over its broken ice cream machines, and even Mickey D's own customers for daring to speak of the restaurant online.
Wendy's latest remark has already been met with thousands of "likes" and retweets on Twitter, but there's at least one critic who wasn't getting a kick out of the "beef" between McDonald's and Wendy's: PETA, the animal rights association, released its own "Super Bowl" commercial online (the ad didn't run during the actual Super Bowl), in which a priest played by James Cromwell admonished a meat-industry executive who claims he "tricked millions of people into believing that the animals they eat all live good lives."