Weed pizza? Massachusetts dispensary offering THC-infused pies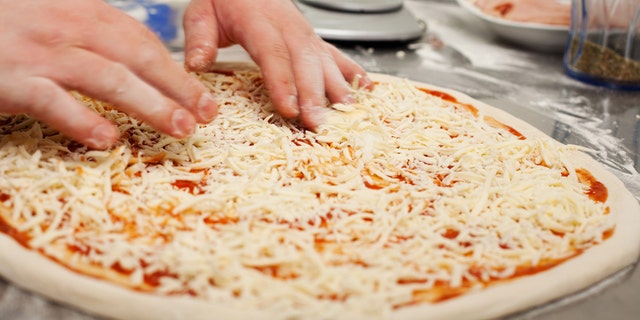 NEWYou can now listen to Fox News articles!
The newest edible from a Boston-area marijuana dispensary isn't just a snack-- it's a full on meal.
Meet the weed pizza.
Ermont Inc., a dispensary in Quincy, Mass., has created a new pizza sauce infused with 125 milligrams of THC and they're using that sauce to top their homemade personal pizzas. The pizzas are then baked and frozen on-site in Ermont Inc.'s kitchen.
But, for dispensary visitors, these weed pizzas might be too good to be true. There are some downsides to the THC-infused snack, the biggest of which may be the high cost. The personal weed pizzas will cost $40, they cannot be delivered and in order to purchase one of these pizzas, a valid Department of Public Health-issued patient or caregiver card is necessary.
DENVER'S POT INDUSTRY IS EATING INTO AREA'S RESTAURANT JOBS
Furthermore, the THC-content of the pizza is far too high for a single serving.
According to Vice, the suggested dosage is 10 milligrams of THC every two hours, not 125 milligrams in the time it normally takes to consume a 6-inch personal pizza.
Emront Inc. says their new weed pizza was not designed for the average stoner to indulge in: It was created for the medical marijuana patients that don't feel comfortable smoking or vaping, reports Boston magazine.
FOLLOW US ON FACEBOOK FOR MORE FOX LIFESTYLE NEWS
"We are pleased to offer a new, more appetizing way for our patients to alleviate pain and discomfort," Ermont CEO and founder Jack Hudson said in a press release obtained by Boston magazine.
"The combination of a food as popular as pizza with the medicinal benefits of marijuana represents an important milestone in the evolution of our high-quality marijuana infused products menu."
Along with the personal pizza, Ermont Inc. also offers THC-infused macaroni and cheese, cookies, hot sauce, chocolates, olive oils and a pleathora baked goods to satisfy any sort of sweet munchies craving.