Watch non-Australians get grossed out over Pizza Hut's new Vegemite pizza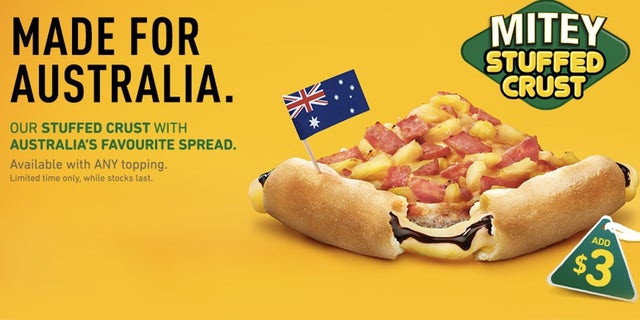 NEWYou can now listen to Fox News articles!
While the thought of Vegemite makes most of the world gag, Australians love the the super salty spread made from leftover brewers' yeast and spices.
So it's not a stretch that Pizza Hut Down Under is now offering a stuffed crust pizza filled with Vegemite. (As if layers of cheese and pepperoni weren't salty enough.)
But not everyone is a fan.
To test out its new offering, Pizza Hut Australia visited a youth hostel in Bondi Beach, Sydney filled with foreign travelers. After taking a bite and promptly wrinkling their noses in disgust, the tasters wonder if they have in fact been fed "fish jam," "petrol" or "medicine."
"If Australians like this, then they are very crazy people," says one French tourist.
Not surprisingly, at the end of the commercial, two men with Australian accents happily munch away at the new pizza.
The new "Mitey stuffed crust" is definitely "made for Australia" as Pizza Hut says. This may be one pizza pie we're not itching to try.