Walmart's new wine line not as cheap as other retailers', but will 'drink like' more expensive bottles, store says
Walmart is looking to to tap into the nation's $62 billion wine market with the debut of its own wine label — although it's not exactly the cheapest wine line from a national retailer.
On June 6, Walmart announced the expansion of its Winemakers Selection brand, which has been available in 1,100 select locations for the last month. Sourced from California, France and Italy, the vino retails for around $11 a bottle, and the line will feature ten "distinctive labels," USA Today reports.
The price tag, while affordable, still isn't quite as affordable as signature wine offerings from Target, Trader Joe's or Aldi. Target, for instance, introduced a line of wine for just $5 per bottle in 2017; many of Trader Joe's wines, specifically its Charles Shaw wines, can be purchased for under $10 per bottle, with some varieties costing much less depending on where it's sold; and just one year ago, a variety of rose sold at Aldi for $8 was named one of the best in the world. (Asada, a British supermarket owned by Walmart, also won an award for its $6 wine at the 2016 Decanter Magazine World Wine Awards.)
However, Nichole Simpson, Walmart's senior wine buyer, explained that the Winemakers Selection products will "drink like a $30 to $40 bottle of wine."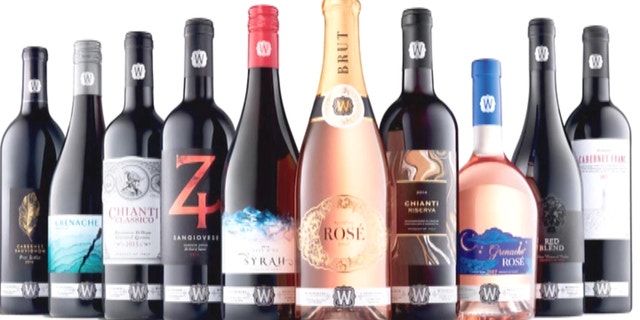 CONOR MCGREGOR ALLEGEDLY BLASTS TENNESSEE WHISKEY ON INSTAGRAM: IT'S 'A CRIME'
"We have made sure [the labels are] easy to read and 'clean' for the customer because they don't have a lot of time," Simpson said. She further divulged that she spent several months ahead of the release "getting to know" the producers of each Winemakers Selection variety, to create greater familiarity and give consumers "a story behind every bottle," the outlet claims.
FOUNDER OF FIRE DEPARTMENT COFFEE IS FOCUSED ON GIVING BACK TO INJURED FIREFIGHTERS, VETERANS
To that end, the news has been largely embraced by Twitter users.
"Say hello to my new wine distributor center!" one fan exclaimed.
"It pairs well with yoga pants" another agreed.
Others, however, remain more skeptical.
"It will be Black Friday all year long," one critic clapped.
"How can @Walmart 'create' a 'cheap' wine section when IT IS THE cheap wine section?" another added.
As noted by Forbes, the store's foray into wine could make Walmart more competitive with fellow superstore Costco. Nevertheless, the Bentonville, Ark.-based chain is relatively late to the drinking party, according to Victor Martino, a food and grocery marketing specialist.
"Wine has historically been a weak category for Walmart. With its numerous stores… Walmart has the distribution might to be a major player in store brand wine," Martino told Forbes. "The question is if it can execute on the price-value-quality equation, something Trader Joe's, for example, excels at with its iconic Two Buck Chuck brand."
FOLLOW US ON FACEBOOK FOR MORE FOX LIFESTYLE NEWS
Americans consumers are spending an estimated $62 billion on wine annually, according to the Wines & Vines, with millennials emerging as a key wine-drinking group.