Visanthe Shiancoe Eats Like a Viking, a Healthy One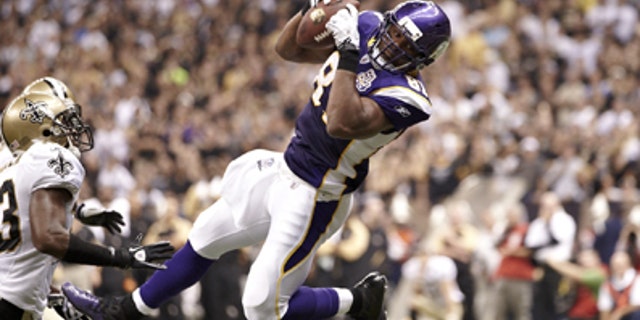 Don't let Visanthe "Shank" Shiancoe see you eat saturated fat. Don't let him know that you've ever eaten it and if you have, lie to him about it. "I'm that guy who's always shaking his head at what somebody's about to eat," admits Shank. He's not a doctor or nutritionist, he's the idiosyncratic, bruising, six-foot, four-inch, 247 pound ("not 250") tight end for the Minnesota Vikings who plays like a Viking and eats like a Hollywood starlet: "no crispy rice, I'd rather those daikon sprouts," "plain mashed potato," "aioli on the side," "grilled shrimp, not fried."
Saturated fat, he says, "gets you all looking funny. Double chins, triple chins, love handles. That's just what it does to your outside. Imagine what it's doing to your insides."
Shank is a contradiction in terms, an anti-food Foodie who loves to eat but eschews silky, high-end, fat-filled fare like seared foie gras and Haagen-Dazs sundaes. He's a healthy-eating fanatic who, when he dropped too much weight during the season, tucked into a lobster cake, Scallops Benedict, macaroni and cheese, and filet mignon at a single meal (he didn't finish), and edamame, a crab cake, lobster macaroni and cheese, barbecued ribs, chicken tenders and a turkey burger, at another (also didn't finish). Granted, he ate those meals on-air for his weekly KARE-TV segment with sports reporter, Dave Schwartz. But they're a screeching departure for a man who eats the lowest-fat foods on the planet, no matter how badly they taste, and emphatically ignores the best part of most meals.
He has never and will never eat skin of any kind. Meaning he's never enjoyed the staggeringly satisfying crunch of deep-fried chicken, much less Peking Duck's molasses-lacquered skin rolled in a thin pancake with sweet hoisin sauce and piquant sliced scallion. It all started in childhood when a friend's family took him out for fried chicken during a sleepover. "It was weird to me because my Mom always took the skin off. I had a stomach ache all night. All that fat and oil just didn't sit well. That was it for fried chicken."
But not for wings. "You've got to know the anatomy of the wing," he explains. One side is open, the other has skin. He eats only through the "open" side, leaving an empty husk of intact skin and bone. Deep-frying isn't totally out-of-bounds. There's the occasional shrimp tempura: "It's battered, but you've got to have some something in there or else your body's gonna lack. And you don't want your body to lack."
Ultimately, it's all about how he fuels his body. "I'm serious about diet, about my grind. I know how hard it is to get to the place where I am," he says. "Guys in other professions, I respect their grind, how hard it was to get there. I give them props for it. This is my grind." That his grind can be a mass of ironic contradictions isn't so odd if you consider that his father was from Ghana, his mom's from Liberia, he was born in Birmingham, England, grew up in Maryland and was the first NFL player in nearly three decades to be drafted from Morgan State University.
The nine-year NFL veteran says his Mom laid the foundation for the healthy habits that lead him to treat his body "like a temple, my shrine." Drafted by the Giants in '03, Shank was Jeremy Shockey's back-up. "He's the best tight end in football," says Shank who's grateful he had years to watch Shockey, "to see how it should be done," and to save his body for later in his career. The Vikings signed him as a free agent in '07 and his career soared.
Shank says his approximately six percent body-fat content makes him work harder. Other guys have more weight so he says he compensates with strength. "I want to be fast, to have that power and to be explosive. My weight is legit weight."
Breakfast is egg whites, oatmeal, bananas and water tossed in a blender. No sugar, no milk. When you eat, he explains, you don't always break down (i.e. chew) your food properly. Blend and "you're halfway through that battle." "My teammates, they all get on me, especially Sid (wide receiver Sidney Rice)." Everybody does it, every morning: "'I can't see how you eat that stuff;' 'How does that stuff taste;' 'Oh, man, I can't believe you're eating stuff like that,'" he laughs. No, it doesn't taste good, but that's not the point. The point is, eating the good stuff.
He burns a lot more calories in camp and during the season, and that's when "my body's gonna yearn for the bad stuff. So eat the good stuff first." He starts with the egg-white shake then stokes his metabolism throughout the day with Nutri-Grain bars, bananas and protein shakes. Only then will he indulge if he absolutely has to: "the human body is very complex and smart and I trust my body to tell me what it needs."
His girlfriend Crista -- a nurse and former Army Captain -- shares his healthy habits. He laughingly says that that's one of the things that attracted him to her. He's crazy about Crista's turkey chili with fresh vegetables and herbs served on brown rice and their non-fat vanilla milkshakes (made with Fat-Free Lactaid.) They mostly eat in and when they cheat, it's with low-fat cheese. "It's never going to be whole-fat cheese. Ever," she says.
You can respect his grind because, bottom line, it's all about maximizing performance. "Eating this way lets me do my job the way I want to do it," he says. Others want to do their job their way. "Some of the big guys are not going to like stuff like, "Pita Bread Pizza with Organic Cheese. They're just not going to eat that. And if you serve it, they're going to complain like a mother."