Upscale restaurants using secret signals to talk about guests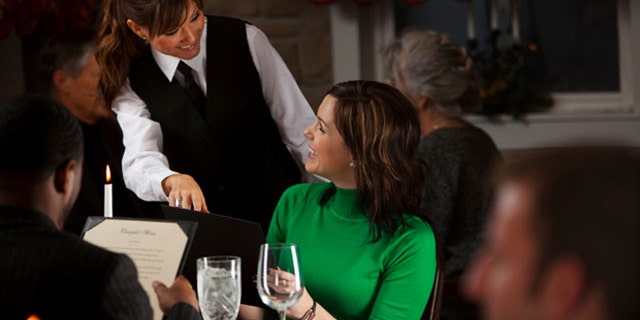 If you're nervous that your waiter is talking about you behind your back, he isn't – he's talking about you in front of your face.
According to The Washington Post, fine dining establishments are teaching their workers to use secret hand signals to communicate about their patrons.
If you are a guest at the BLT Steak in downtown Washington, D.C., look for the manager Adam Sanders to flash a "V" with his fingers as you walk by. That signals a VIP has arrived.
If you go to Eleven Madison Park in Manhattan, see if your waiter starts brushing his shoulder as you leave. That signifies you were a messy eater and the table needs to be quickly cleared of crumbs.
The idea of restaurant workers communicating via secret signals is nothing new. A photo spread in Life magazine from 1944 unveils the hand motions used at the legendary Stork Club in New York. The club's owner, Sherman Billingsley, would quietly clasp his hands together and put one thumb up if a customer needed to be removed and banned for life.
"Most communication is non-verbal," William Washington, general manager of Le Diplomate in Washington, D.C. told The Post. At Le Diplomate, a palm held forward means that the server needs to refill a customer's empty bread basket.
Think you can crack the code? Check out the video below to learn more about the secret sign language of restaurant workers.