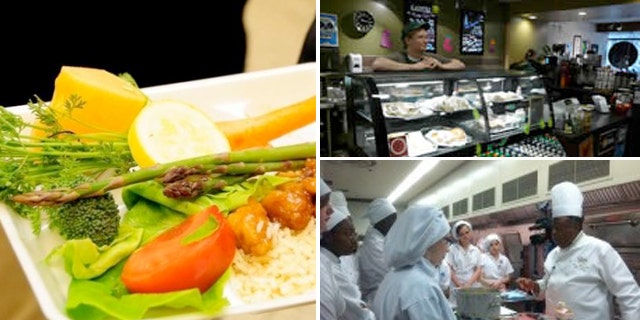 Navigating a lunchroom filled with jocks, goths, preps, and drama kids is no easy task. Luckily for some, the reward is huge — students today have far more to look forward to come lunchtime than past generations. If cafeteria food makes you think of hamburgers on stale buns, tiny milk cartons, and mystery meat, think again. You won't find any sloppy Joes on this list — extra sloppy or not. Think fresh produce, local fish and meat-free meals.
With the school year drawing to a close and summer vacation a few weeks away, let's take a look back at what high school students across the country indulged in during lunch period.
America's high schools are also providing food-focused programs that will blow you away. Students across the nation are getting the opportunity to run farms, staff school cafés, work as chefs, and play with their food — with very impressive results.
To craft this list we looked for high school initiatives that feature local food, community-driven food-related efforts that emphasize sustainability and education, schools that allow students to harvest produce for their own meals, and programs that replicate the experience of working in restaurants and cafés for students with culinary aspirations. These programs give students concrete experience in the kitchen and improve their customer service skills, which is invaluable for young chefs in training.
After learning about these programs, and a few other interesting ones we stumbled upon along the way, it's very clear that high school food lovers are rolling up their sleeves and getting dirty — literally — to learn more about food.
So before you whip out your sparkly pens and autograph a few dozen yearbooks, check out Unique High School Food.
Project Sprout
Founded in 2007 by three students from Monument Mountain Regional High School, Project Sprout began as a 3,500-square-foot student-run garden on school grounds. Created to provide fresh produce to both the school and community, the project tripled in size over the next few years and grew to include a fruit orchard.

The produce from the Great Barrington, Mass.-based garden is served almost daily in school lunches — local soup kitchens and homeless shelters also benefit from the bounty. The farm serves as educational tool for the community and inspires students to think about where food comes from.
Student Servers
Skyline High School in Oakland, Calif., relies on students to keep the cafeteria running smoothly. Before class, students not only serve breakfast to fellow classmates, but also man the register and prep food for lunch. Tasks include things like wrapping burgers for service and adding the finishing touches to lunch dishes made in the school's kitchen. The program allows students to gain responsibility while earning a paycheck.
Student Run Café
What is the West Allis-West Milwaukee Classroom Café? It's a Wisconsin-based outfit manned by teens from the local high schools (West Allis Nathan Hale High School and West Allis Central High School) before and after their classes. Situated on the first floor of the school administration building, the café serves breakfast and lunch and allows students to learn the logistics of running a food outlet. Offerings include bagels, subs, chili, and beverages.
Student Chefs
Eagle Café at Richardson High School in Texas teaches students what it truly means to be a chef. Teens are in charge of everything: creating the menu, preparing the food, taking orders from guests, cleaning up, and managing the budget. Part of the culinary arts program at the Richardson, Texas, school, the café gives high school juniors hands-on restaurant experience. Open on Fridays, the restaurant serves lunch fare that includes Philly cheesesteaks, ricotta cheesecake, and turkey panini, among other items.