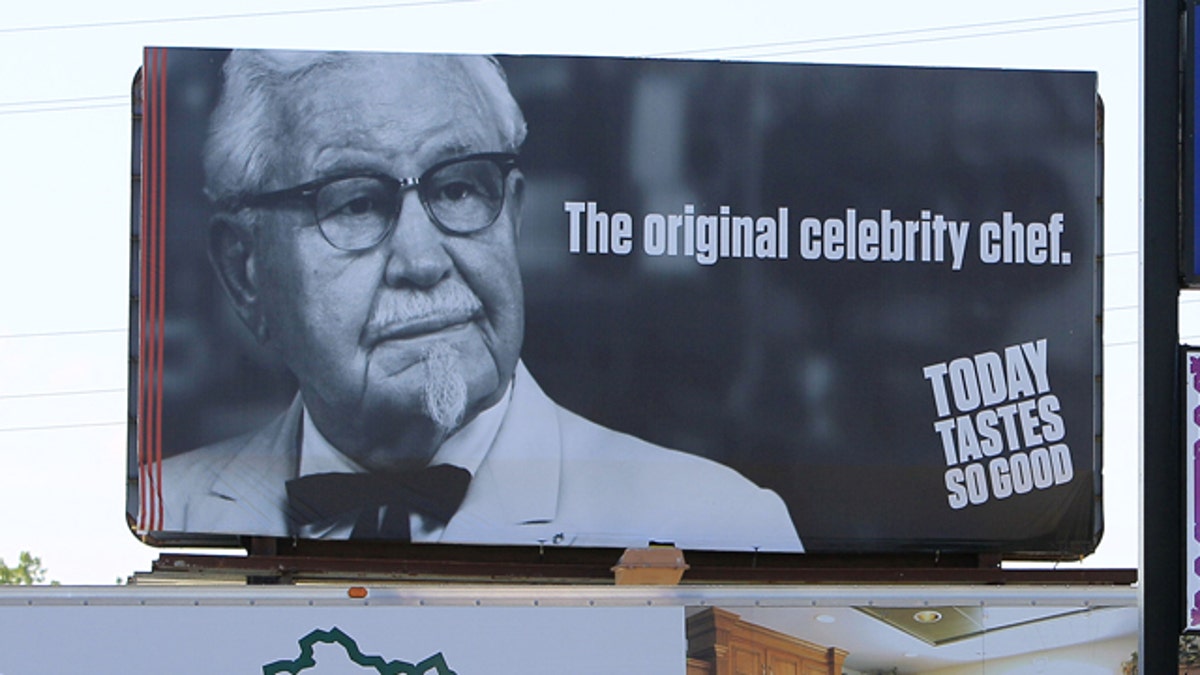 LOUISVILLE, Ky. – His secret recipe of 11 herbs and spices launched a global chicken restaurant chain and landed him in American folklore.
It's been more than 30 years since Kentucky Fried Chicken founder Colonel Harland Sanders died. Now KFC wants to serve up the everyday stories that will preserve the colonel's rags-to-riches journey.
Like the time the colonel played matchmaker. Or the time he picked up a hitchhiker, then paid his college tuition.
The world's largest chicken restaurant chain launched a website Tuesday — http://www.ColonelSanders.com — to gather photos, videos and stories about the goateed entrepreneur, whose likeness is still stamped on KFC restaurant signs and chicken buckets around the world.
Sanders traveled 250,000 miles a year visiting KFC restaurants worldwide until his death at age 90 in 1980.
"A lot of people still remember the colonel and knew there was a colonel. That it wasn't just a made-up logo or marketing thing," said Jim Davis of Berea, who was a friend and fellow church-goer.
Friends and acquaintances fondly recall the man with the ubiquitous face who was known for being a stickler for details and an untiring pitchman.
Duanne Puckett remembers the colonel as a larger-than-life figure in his adopted hometown of Shelbyville, where he strolled along the town's main street in his trademark white suit and once found a wife for a pastor.
"The colonel took it upon himself to play cupid," recalled Puckett, describing Sanders' characteristic persistence in playing matchmaker for his pastor, a widower. At first, the pastor resisted. Once Sanders was finished, the couple married and lived a long, happy life together.
Another story, relayed to KFC officials by the colonel's driver, points to Sanders' penchant for philanthropy. Sanders picked up a young hitchhiker and gave him a ride back to college. The colonel went straight to the administration office and wrote a check paying off the student's tuition.
"He could be rather salty," Davis, who attended church with the colonel in Shelbyville, a small town about 20 miles east of Louisville, when they both lived there. "But he was a great humanitarian."
KFC, part of Louisville-based Yum Brands Inc., insists the website is about preserving Sanders' story, not selling chicken. A billboard in Louisville touts Sanders as "the Original Celebrity Chef."
Shirley Topmiller, who worked as Sanders' assistant for 28 years, is helping lead the campaign to preserve the colonel's legacy.
"We know there are countless stories out there about the colonel," she said shortly before boarding a plane for New York to publicize the website.
The initiative comes at a time when KFC is struggling in the U.S. even as it prospers overseas, especially in China.
"As other brands strive to be faster and faster and cheaper and cheaper, consumers are looking for a brand that reminds them of a simpler time, a time when restaurants took a little bit more time to care about the products that were prepared," said Barrry Westrum, KFC's chief marketing officer.
KFC is part of Louisville-based Yum Brands Inc., whose other restaurant chains include Taco Bell and Pizza Hut.
In Yum's recent second quarter, revenue at KFC restaurants in the U.S. open at least one year fell 5 percent, reflecting an overall slump in Yum's domestic business. But operating profit in Yum's fast-growing China operations jumped a whopping 25 percent in the three-month period. KFC is a main driver for Yum's success in China.
Thomas P. Hustad, professor emeritus of marketing at Indiana University's Kelley School of Business, said the colonel's iconic status "provides a touchstone for value and quality of the product" that benefits the contemporary brand, which has more than 15,000 outlets worldwide and serves 12 million customers daily. Not to mention that people might check out the website and suddenly have a hankering for chicken.
KFC isn't sure yet what it will do with the Sanders collection, Westrum said.
It might result in a book chronicling the man who, it could be said, was the quintessential late bloomer. He achieved fame when most people retire, after spending years as a farmhand, a streetcar conductor, an Army private in Cuba, a blacksmith's helper, a rail yard fireman, an insurance and tire salesman and a service station operator.
He opened a restaurant in southeastern Kentucky, but when an interstate highway bypassed his business he was cut off from customers and closed. Left with his unique recipe and a Social Security check, the 65-year-old Sanders hit the road to pitch his chicken to restaurant owners.
By 1964, when Kentucky Fried Chicken had grown to more than 600 franchised outlets, Sanders sold his interest in the U.S. company for $2 million to a group of investors. He remained a spokesman for the company, becoming one of the world's most recognized faces.