Truffles, lobster and gold leaf-- is this the world's most expensive pie?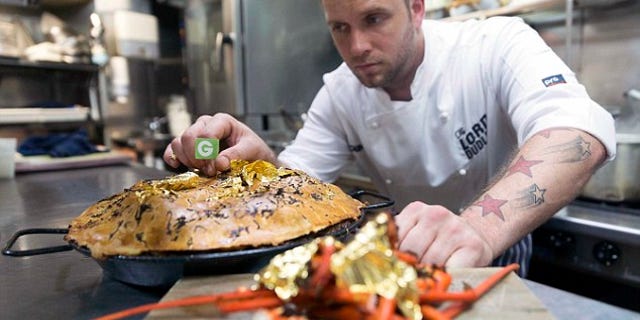 NEWYou can now listen to Fox News articles!
To celebrate Groupon's milestone achievement of selling two million food vouchers in Australia, a chef in Sydney concocted a meal for people who have properly never heard of Groupon—let alone used it to buy food.
It took Paul Medcalf, executive chef at The Lord Dudley Hotel in Paddington, three weeks to develop the recipe for the dish he has dubbed the "Posh Pie."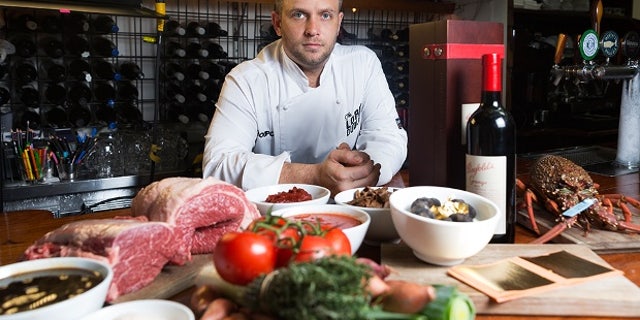 "My approach was to take the classic surf and turf concept and replicate it into a pie using the best quality ingredients I could get my hands on. After weeks of tinkering away in the kitchen I think the Posh Pie is well deserving of its record breaking title," Medcalf said in a promotional video.
The Posh Pie is made from two different premium beef cuts from butcher David Blackmore, two Western Australian rock lobsters and rare Winter Black truffles. The whole concoction is then coated with 23 carat German gold leaf and smothered in two bottles of Penfolds Grange Reserve. Yum.
The pie is worth AU $12,000—about USD $9,484—and has been dubbed the "world's most expensive pie" by several outlets but that's not entirely true. It may be worthy of the specific moniker "World's Most Expensive Surf & Turf Pie" but according to Guinness, the most expensive pie ever made cost a whopping $14,260. That pie was loaded with prime ingredients like Japanese wagyu beef, Winter Black truffles, other hard-to-find mushrooms and a sauce made from vintage 1982 Chateau Mouton Rothschild.
But the best thing about Medcalf's pie is that it now be yours! Groupon is holding a contest for savory pie lovers that ends June 3. Simply tell the Internet coupon company why you really, really want to taste the pie—and round up the funds to get to Australia—and you will be notified soon if your entry was selected.
If you can't make it to The Lord Dudley Hotel, Medcalf has graciously revealed the full ingredient list for home gourmands. (Here's a handy kilogram converter.)
--2kg David Blackmores brisket
--2kg David Blackmores Beef tenderloin marble score
--2 x Western Australian Whole Rock Lobsters
--500g of Australian Winter Black Truffles 500g
--1 x pack German Gold Leaf
--2 x Penfolds Grange Reserve bottles
--Dried Italian porcini mushrooms
--Puff Pastry
--All organic vegetables eschalot, carrot, celery, leek, vine ripened tomatoes, crushed tomatoes, tomato puree, thyme
--Veal sauce
See the #PoshPie come together.