TripAdvisor users rank America's best burger restaurants
The quest to find the nation's best burger is like trying to pick the best slice of pizza. It can be very subjective. Some toppings are what make a great burger, while purists say the quality of the meat is the thing.
That's where TripAdvisor comes in. The travel review site went through millions of user reviews and comments and just released their list of the 10 best burger joints in the U.S. The final ranking was compiled using data about the quality, quantity and overall reviews of burgers and the restaurants themselves.
"Whether hankering for a sweet fix with a donut burger, a spicy bite with jalapeno, or simply a classic cheeseburger, TripAdvisor travelers have named some of the country's finest patty purveyors," Brooke Ferencsik, director of communications for TripAdvisor, said in a press release.
The list of joints spans the nation, but burger lovers in the Northeast may be disappointed. There's not a single restaurant from that region that made the top 10 cut.
Check out the top 10 below. Did your favorite make the list?
1. Black Hills Burger and Bun Co. - Custer, South Dakota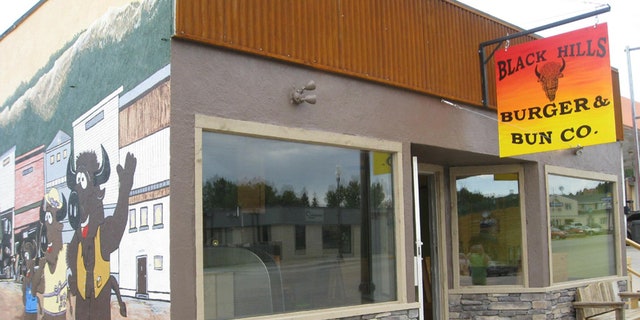 NEWYou can now listen to Fox News articles!
Crafted using beef that's ground daily and served atop house-baked buns, this Black Hills eatery serves up blissful burgers from an inventive menu, including "The Hot Granny" – a perfectly cooked beef or bison patty topped with bacon, cream cheese, and sweet and spicy jalapeno sauce.
2. Nic's Grill - Oklahoma City, Oklahoma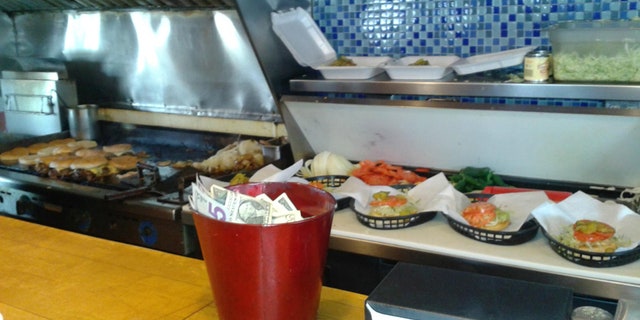 It's pretty typical to see lines that snake outside the door of this 16-seat eatery at lunchtime. Owner and chef Justin 'Nic' Nicholas dishes out massive hand-formed patties that are seared before finishing slowly on the griddle, resulting in a burger that's crispy on the outside with a tender and juicy middle.
3. Sparky's - Hatch, New Mexico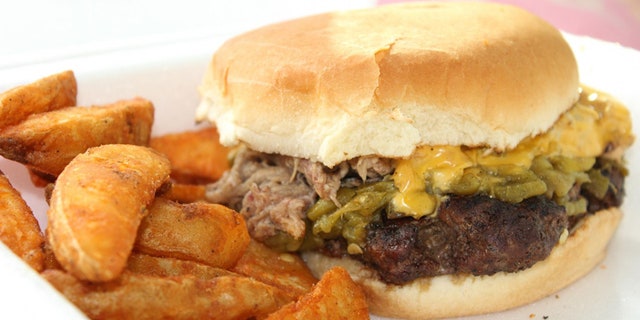 Forty miles northwest of Las Cruces, burger enthusiasts can tickle their taste buds as they bite into a green chili cheeseburger made from Hatch's famous peppery topping. Guests will also enjoy the joint's kitschy decor that features a collection of fast-food themed statues. One TripAdvisor reviewer wrote this about the green chili burger: "'WOW' words cannot describe the mellow heat and great taste!"
4. Grill-A-Burger - Palm Desert, California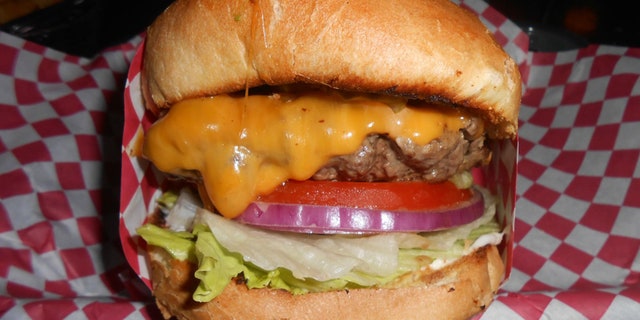 This tasty haven in the desert claims to have the "best burger under the bun." Crafted using all-natural beef, cleverly named menu options include the "Bacon Me Crazy" burger and the "Chili Chili Bang Bang," topped with chili, melted cheddar cheese, and diced sweet onion.
5. MEAT Eatery and Taproom - Islamorada, Florida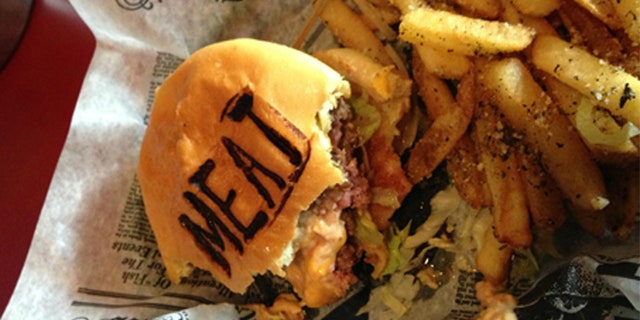 Located within an unassuming strip mall, this Florida Keys eatery serves up all-American, gourmet fare, including baskets of French fries prepared in duck fat, house-made root beer, and mouthwatering burgers sandwiched between fresh buns that are emblazoned with the restaurant's "MEAT" logo.
6. Brook's Gourmet Burgers and Dogs - Naples, Florida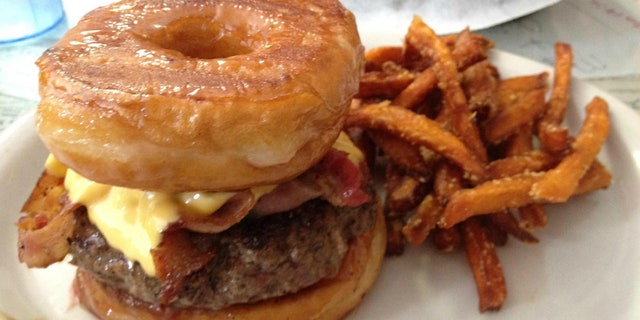 With a menu boasting outrageous options like the "Donut Burger," a beef patty wedged between two glazed donuts and topped with cheese and bacon, it's clear that the creative burger juices have been flowing at this Florida favorite. It also serves delicious Vienna beef hot dogs, deli sandwiches, and creamy milkshakes. The flavors were a hit with one reviewer who commented,"It tantalized my taste buds. I didn't know that hamburgers could be that good!"
7. Mussel & Burger Bar - Louisville, Kentucky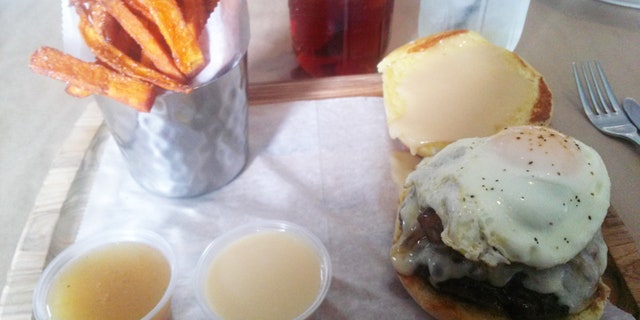 Since opening in 2013, this upscale eatery has quickly gained notoriety with its mussels and burgers menu – the restaurant's unique take on surf 'n' turf. The restaurant tempts with 13 burgers, from the classic "Good Ole" cheeseburger to the truly luxurious "CEO" that comes topped with Gruyère cheese, truffle aioli, and the option to add foie gras.
8. Big D's Downtown Dive - Roswell, New Mexico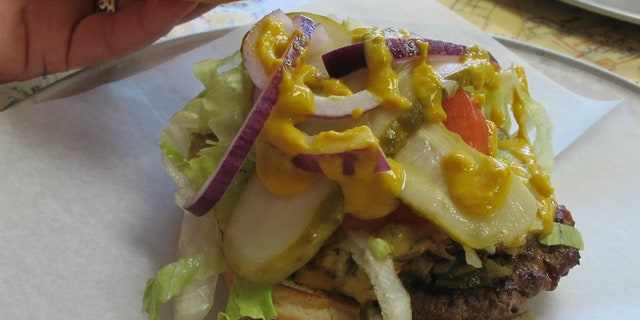 Owner and chef Don Nason uses garden fresh ingredients to grill up burgers that are out of this world. Hungry customers flock to Big D's for tantalizing creations like "The Tomahawk," which is topped with aged cheddar, red chili, and avocado lime mayo.
9. Casper & Runyon's Nook - Saint Paul, Minnesota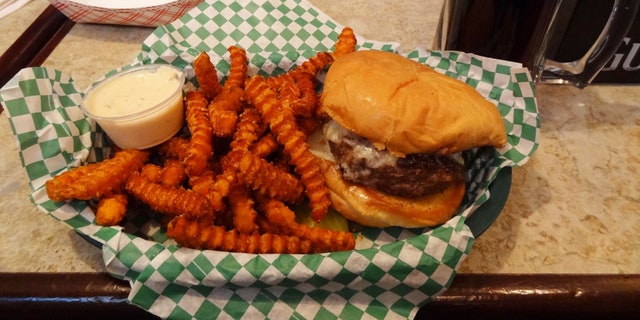 A small spot with big burgers, this Twin Cities establishment has been serving up more than 30 enticing beef and bun variations since 2000. Meat lovers frequent the Nook for its signature cheese-stuffed burgers – the joint's take on a recipe native to Minnesota known as the "Juicy Lucy."
10. Village Burger - Waimea, Hawaii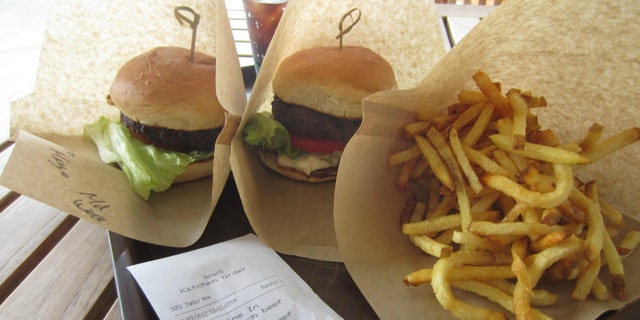 In the Aloha State, this island eatery serves up traditional beef burgers made with locally sourced ingredients. Scrumptious options include the "Big Island" burger and "Kahua Ranch Wagyu" burger, described as "big, rich and bossy." Travelers can also try a fresh ahi tuna or vegetarian burger. Apparently the local ingredients make all the difference. One TripAdvisor stated: "You really can taste the difference with fresh local beef. I am forever spoiled now that I know how a burger can taste."